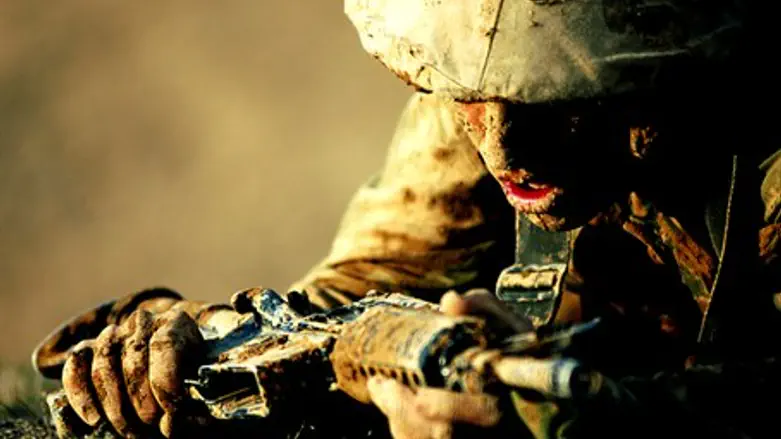 IDF soldier (illustration)
Flash 90
Nearly a week after last Friday's incident in which he and his troops were filmed breaking the camera of foreign journalists, IDF first lieutenant A. of the Givati Brigade, has revealed that the skirmish that led to his dismissal on Thursday has been distorted.
Channel 2 published Thursday that A. told those close to him that the IDF has betrayed him, saying, "they're spilling my blood, I'm very disappointed by my commanders who didn't back me up."
The officer explained that he didn't attack the AFP journalists, one Italian and the other Arab. He noted that the footage of the event which was taped by Arab sources was edited so as to misrepresent the incident, which took place during a violent Arab riot in Beit Furik, a town outside Shechem (Nablus) in Samaria.
A. argued that his commanders never trained him in dealing with journalists who disrupt an IDF operation and harm security. He noted that in the video making the rounds on social networks, one doesn't see the over 10-minute long conversation between him and the journalists in which he asked them to leave the volatile site of the riot, and they refused.
Even more dangerous is the fact that the photographers tried to enter an IDF vehicle, according to A., so as to film the classified communications systems and weapons inside it.
"I broke the cameras to protect the soldiers and to save a soldier who was wounded by a rock to his head," said A. "The photographers hindered us and documented things that could have caused operational damage. If the price is damage to some plastic and metal - that's preferable."
There has been a growing backlash to A.'s dismissal on Thursday, with soldiers in his unit announcing they will refuse to take part in the next operation they are assigned.
A Facebook page was also established with the name "Officer-Hero of Israel - We All Stand with First Lieutenant A."
A post on the page on Thursday shortly after his dismissal announcement read: "the IDF spokesperson did not publish the fact that the officer broke the cameras because the photographers prevented the advancement of the force, and effectively prevented the response to the violent breach of public order that included rock throwing."
"A soldier was wounded in the field when Palestinians started to surround him and tried to harm him. Without the breaking of the cameras and moving the photographers there could have been a 'lynch' on a wounded soldier!," claimed the page.