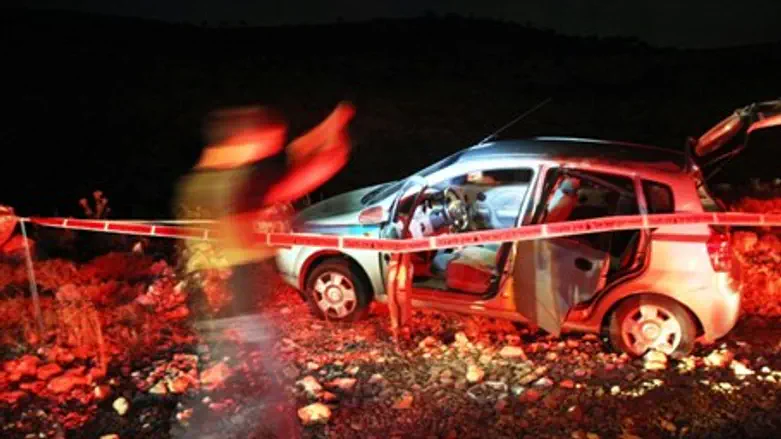 Vehicular attack
Flash 90
In an indictment filed Wednesday against the terrorist who ran down a group of IDF soldiers in August, officials said that Ra'ad Mahmed Ibrahim Baduan had much more in mind that just driving over Yuval Appel and Yarin Ashkenazi.
The terrorist had also, according to the indictment, planned to crash his car into an Israeli bus on Road 60. In the aftermath of the "accident," he planned to invade the now-disabled bus and kill as many people as possible.
Three soldiers were wounded in the vehicular terror attack in early August at the Sinjil junction, near Shiloh in Samaria, several kilometers north of Jerusalem.
Two of the wounded soldiers – Appel and Ashkenazi – were taken to the hospital in serious condition. The terrorist was shot and disabled, and then arrested. He has been in jail since then, as security officials questioned him and gathered evidence.
According to the indictment, the terrorist had several weapons with him in his vehicle, including an axe, which he planned to use in the bus attack. He began driving on Road 60 and found an Israeli bus, and was planning to crash into it in order to carry out his plan.
However, the faster bus got away from him, and it was then that the terrorist saw the three soldiers standing at the side of the road. He ran into them, and then attempted to exit the vehicle, grabbing the axe with the intention of murdering them.
Fortunately, an IDF officer, Daniel Elbaz, was at the scene, and he shot the terrorist, wounding him badly.
The indictment said the terrorist had been motivated by incitement in the Arab media that Israelis were planning to "take over" the Temple Mount, on the background of the burning of the home of the Dawabshe family in the village of Duma.