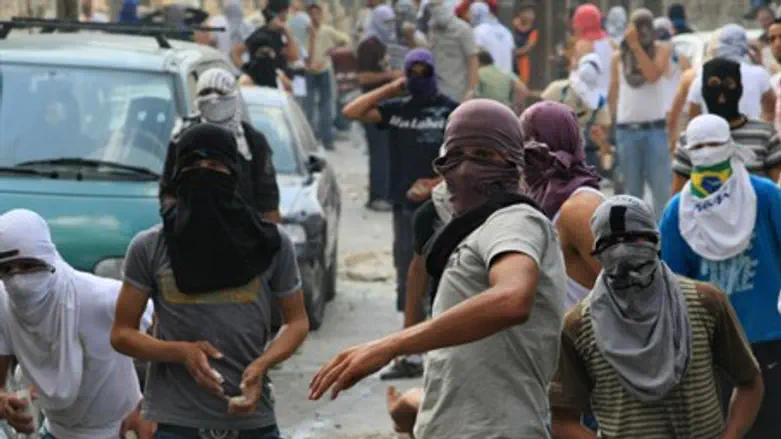 Mob attacks with stones (file)
Israel news photo: Flash 90
Two IDF troops, one an officer and one enlisted, were struck by rocks and injured today (Wednesday). The officer is in moderate condition, while the enlisted soldier's condition is unknown. Both have been taken to a Jerusalem hospital.
The incident occurred at Beit Ummar, near Hevron, where Arabs rioters continue to throw stones and Molotov cocktails, and where gunfire could be heard, apparently perpetrated by Arab residents celebrating Palestinian Authority (PA) Chairman Mahmoud Abbas's rejection of the 1994 Oslo Accords at the UN.
Nationalist activist Baruch Marzel of the Otzma Yehudit party, who lives in Hevron, responded to Abbas's speech and the gunfire reaction in the ancient city.
"The shooting proves how much the (Palestinian) Authority doesn't have a grip on the ground," said Marzel. "(Prime Minister Binyamin) Netanyahu is doing business and giving to a man who has no relevancy."
"In any case the Oslo Accords should be canceled immediately and the (Palestinian) Authority should be disbanded," he added, in a call for Israel to annex Judea and Samaria.
In other security-related news, two teenagers, aged 14 and 15, have been arrested for rock-throwing attacks in Jerusalem. Neither is believed to have caused any injuries.
IDF forces elsewhere in Judea-Samaria scored another victory against terrorist groups there. Last night the Netzah Yehuda Battalion from the Kfir Brigade seized 11 pipe bombs, two improvised weapons, a hunting rifle, ammunition, and other military supplies near Jenin.