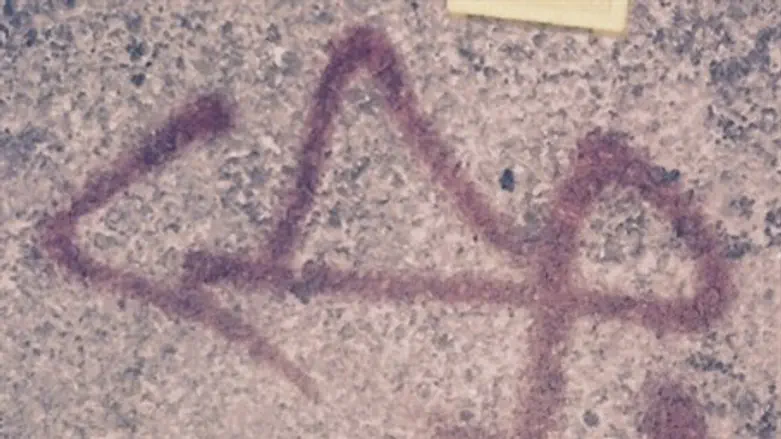 PFLP graffiti at the cite of the attack
Shin Bet
Security forces have caught the Arab terrorist cell responsible for burning down a gas station near the Jewish town of Eli in Samaria, it was revealed for publication Tuesday.
A joint operation between the IDF, Shin Bet (Israel Security Agency) and Israel Police arrested several terrorists in the Arab village of Kfar Awarta near Shechem, two of whom are believed to be behind the August attack.
In an organized, hit-and-run attack, the terrorists firebombed the gas station, located along Route 60 roughly fourty minutes north of Jerusalem, and spray painted the logo of the neo-Marxist Popular Front for the Liberation of Palestine (PFLP) terrorist group.
The gas station, which services the surrounding Jewish towns and villages - including Eli, Shiloh and Maaleh Levona - was totally destroyed, and was out of action for several weeks as authorities worked to repair it.
The two terrorists admitted to the attack under Shin Bet interrogation; the "mastermind" of the attack acted as the driver, while his associate hurled the molotov cocktail which ignited the station.
They claimed to have launched the attack in revenge for the murder of Ali Dawabshe, the Palestinian baby killed in a firebombing attack in the village of Duma less than two weeks earlier. No one has been charged over that attack, but Israeli authorities believe it to be the work of Jewish extremists, possibly in revenge for a series of deadly Arab terror attacks in the area.
Military prosecutors are preparing to issue an indictment for the cell members in the coming days.