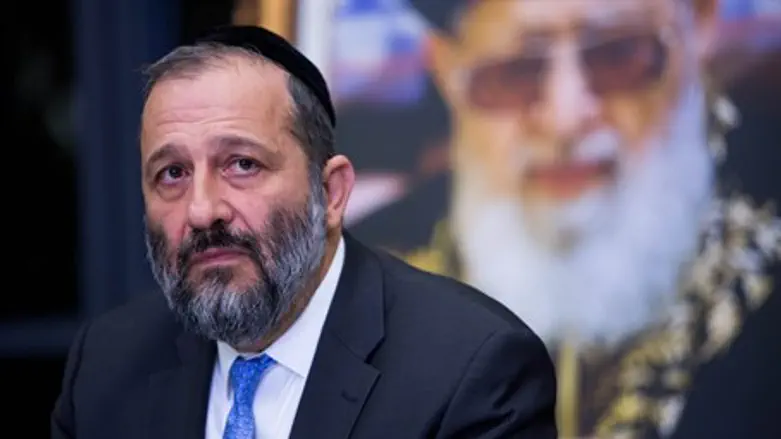 Aryeh Deri
Yonatan Sindel/Flash 90
Economy Minister Aryeh Deri (Shas) holds the sole responsibility for banning work on Israel's trains on Shabbat, officials from the Ministry of Transport confirmed late Saturday - a move which may see thousands of soldiers and civilians stranded before and after the weekly day of rest. 
"The Ministry of Economy, headed by the Minister Deri, is solely responsible for granting permits to work on Shabbat, according to the law and the status quo prevailing in the State of Israel for many years," they told Walla! News. 
"If Minister Deri wants to shirk his responsibilities, as he had done in other areas - including the appointment of judges to the labor courts and determining the gas outline - he must do so formally and not through attempts to unilaterally modify procedure, which is against the law," they added. 
The Economy Ministry claims that continuation of work on Shabbat is pending a letter from Transport Minister Yisrael Katz (Likud), Army Radio reports Friday - but the Transport Ministry insists that the sole responsibility for the work is in the hands of Deri's ministry. 
The maintenance work usually done over Shabbat includes safety testing and emergency repairs, and is often performed by non-Jews. 
Cargo shipments will also be affected, and could see trains left on the tracks to sit over Shabbat - leaving the rails crowded for when service reopens. 
Moreover, the decision delays the completion of the Jerusalem-Tel Aviv high-speed line by over two years. 
Proponents of the move, particularly the haredi community, have claimed that the decision will uphold the sanctity of Shabbat.
But critics have noted that non-Jewish workers performing the maintenance work do not violate Shabbat in the first place - and that the move forces what equates to a Shas party belief onto the greater whole of the non-haredi Israeli public.