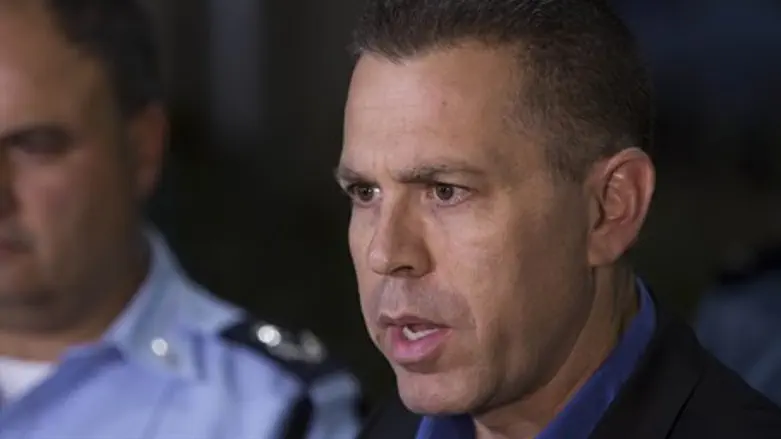 Gilad Erdan
Yonatan Sindel/Flash 90
After Brig. Gen. (ret.) Gal Hirsch removed his candidacy for police commissioner on Wednesday due to what he termed a "smear campaign," a new contender has come to the fore.
Internal Security Minister Gilad Erdan (Likud) on Friday submitted the name of the present deputy head of the Israel Security Agency (ISA or Shin Bet) - named to the press only as R. to protect his identity - for the role.
Prime Minister Binyamin Netanyahu has accepted the appointment, and allowed the candidate's name to be brought before the Turkel Commission for deliberation in the coming days.
R., 52, hails from the central coastal district and is a married father of seven, and is religious.
After serving in key units in the IDF, he served in the ISA as head of the Judea, Samaria and Jeruslem district, and afterwards as head of the southern district. 
Avi Naim, who is chairman of the local authority security council, head of the Beit Aryeh regional council in Samaria and a former member of ISA himself, praised the appointment in comments to Arutz Sheva.
"I welcome the excellent selection of minister Erdan. R. is a senior member of the ISA and even a candidate for head of the ISA. He has rich operational experience of dozens of years, he's a man on the ground with creative thinking."
"I'm convinced that R. will make the much-needed deep revolution in the Israel Police and rehabilitate its image and abilities beyond recognition," said Naim. "This is the right appointment of a firm and uncompromising man who loves the land of Israel."
Talk of the new candidate comes after Erdan told Hirsch on Wednesday night that he will be forced to remove Hirch's candidacy due to the lack of a deadline in the lengthy vetting process, which was held up amid "a campaign of slander, mudslinging, and character assassination," according to Erdan.
Netanyahu also spoke up in defense of Hirsch, saying, "Gal Hirsch is the right man for the post of Police Commissioner; I thought so then and I think so now. But our appointment process is long, arduous and damaging, and undoubtedly deserves reexamination."
Hirsch led the IDF's Galilee Division during the Second Lebanon War in 2006, but came under fire for his performance after the war, especially for his claim the IDF was in "complete control" of the village of Bint Jbeil, where some of the heaviest fighting took place.