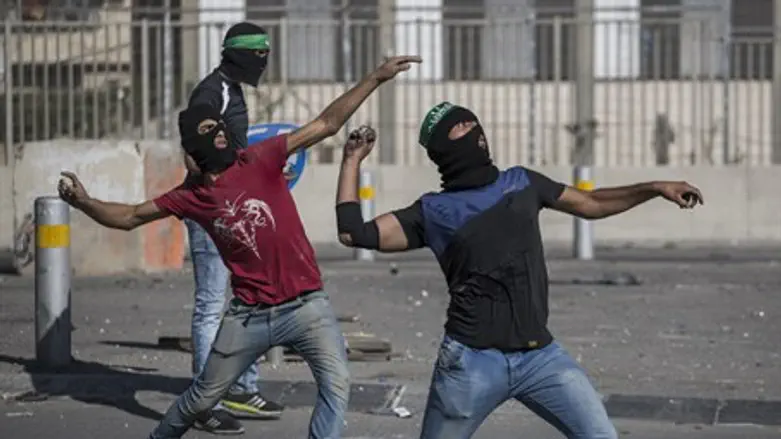 Arab rock-throwers in Jerusalem
Hadas Parush/Flash 90
Security forces arrested 13 Arab rock-throwers and rioters in Jerusalem overnight Wednesday. Nine of them were minors. 
Police said further arrests were expected for violent rioting that has taken place in the capital over the past several days, nothing that "Jerusalem police will continue seeking out and arresting lawbreakers and bringing them to justice."
As Arutz Sheva reported on Wednesday night, Justice Minister Ayelet Shaked is expected Thursday to present a plan to penalize parents of minors who engage in violence such as rock-throwing and firebombings.
According to the law, the parents of children convicted of such attacks will face cuts to child allowances and other government benefits.
The measure is aimed specifically at minor residents of Jerusalem who have been involved in major rioting over the past several weeks.
Most of the rioters, residents of Arab neighborhoods in the capital, are Israeli residents or citizens, and members of families are eligible for the payments. Shaked's hope is that parents who stand to be hurt financially will restrain their children from participating in the rioting.
In a measure aimed at rioters aged 12 years and younger, Shaked's bill would require parents to post bonds in order to get their kids out of jail – a form of bail. If the child does not participate in riots for at least a year, the money will be refunded; otherwise it will be forfeited.
For adult rioters, Shaked is proposing a sharp increase in sentencing guidelines for those convicted of rioting, with a minimum of two and half years in prison for each offense.
While that legislation still takes form, she is expected to enact a temporary measure mandating a minimum prison sentence that is one-fifth of the maximum sentence for the offense in question.
For example, rock-throwers convicted of intent to cause bodily harm - a crime which can warrant a maximum sentence of 20 years - will automatically be jailed for a minimum of four years.