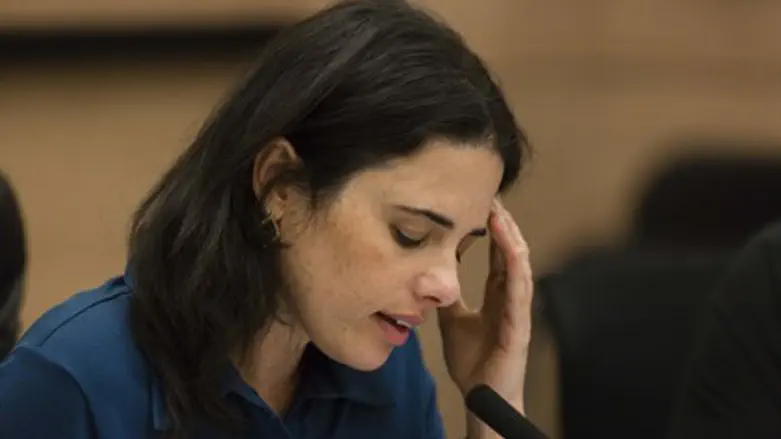 Ayelet Shaked
Flash 90
Several leading nationalist voices have been expressing disappointment after Justice Minister Ayelet Shaked (Jewish Home) added Attorney Raz Nizri and Prof. Ron Shapira to the list of candidates for the next attorney general.
Nizri is currently Deputy Attorney General. While he wears a kippah he is not generally associated with nationalist views and was a part of the Prosecution during the protests against the Disengagement from Gaza, which saw many nationalist protesters jailed.
Shapira heads the Peres Academic Center and was Dean of the Faculty of Law at Bar Ilan University.
One of the disappointed nationalists is Hevron resident Attorney Itamar Ben-Gvir, a leading figure in Israel's right wing.
Ben Gvir told Arutz Sheva that Shaked has succeeded in making a change for the better in the justice system, since taking office. "At last there is a minister with a backbone, a Jewish agenda and not just a democratic one, and it is clear that this is a talented minister who not only knows how to talk but also how to take action."
"As an attorney who appears in court every day," he added, "I feel the effect of the minister's actions and I applaud her for this. But it is precisely because of this, there is disappointment from the names that were proposed for attorney general, including the two new candidates."
"We expected more," he said. "The list of candidates does not include anyone with a Jewish and democratic agenda who is not part of the system. There is no one in the list who will not continue the tradition of the attorneys general, to behave as if they are elected officials, and there is no candidate who can bring a real change regarding the settlement enterprise and right wing activists."
It is anticipated that neither Nizri nor Shapira are realistic candidates for the A-G position.