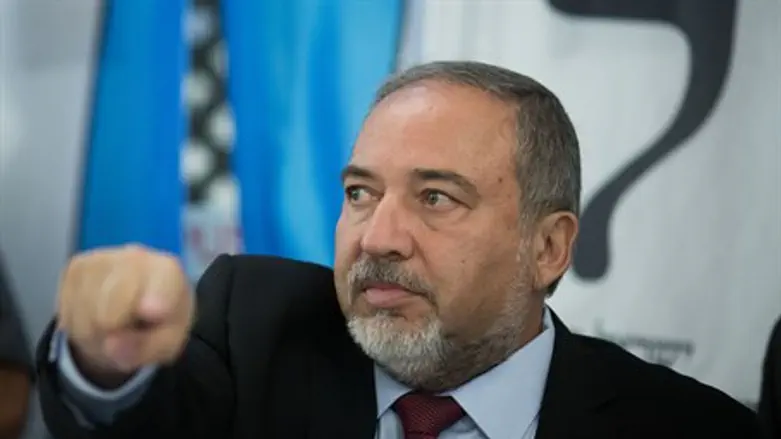 Avigdor Liberman
Yonatan Sindel/Flash 90
Yisrael Beytenu chairman and former Foreign Minister Avigdor Liberman called on Education Minister Naftali Bennett (Jewish Home) to fire the directors of Sakhnin schools on Monday, following a protest for "intifada" by the students.
Middle and high school students in the Israeli Arab city of Sakhnin, located in the Galilee east of Haifa, skipped school on Monday morning to demonstrate against the "attack on the Al-Aqsa Mosque."
The protest is a reference to Israeli law enforcement against Islamist attacks on police at the Temple Mount last week, where attackers prepared in advance their attack using the mosque as a base to hurl rocks and explosives.
The students waved flags of the Palestine Liberation Organization (PLO) terror group, and declared they would not return to classes.
"From Sakhnin the decision went out - intifada (terror war - ed.) and victory," shouted the students, in a protest that was organized on Facebook.
Explaining his call to fire the school directors, Liberman said, "it's clear that this process was done in an organized manner, with at the very least the taciturn agreement of these school directors, and that it's another stage in the education to incitement against the state of Israel that these schools are giving their students."
"I call on the education minister to take strong steps against all those involved, to clarify that the state of Israel won't give its patronage to those who educate to act against it."
Bennett has yet to respond to the call.