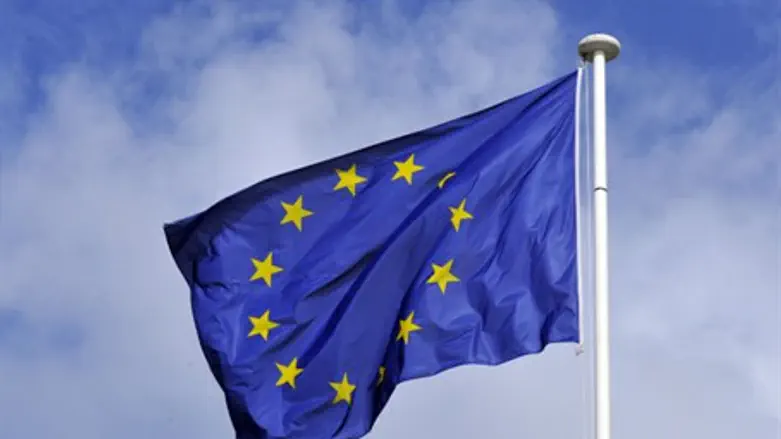 EU flag (illustration)
Flash 90
The European Union (EU) is intending to start implementing the European Parliament's decision this month to label products from Jews in the Golan Heights, Judea and Samaria as early as next month, reports Army Radio on Monday.
According to the report, a senior source in the EU revealed the organization intends to implement the "settlement" labeling in October.
That intention comes despite the fact that the way products are actually to be marked remains uncertain, and the way the label itself is to look is also unknown. These logistics issues are to be solved in the coming weeks according to the source.
The official threatened that if Israel responds to the discriminatory labeling by developing new Jewish communities in the Biblical heartland of Judea and Samaria, the EU will take additional punitive steps against Jews in the region.
In the 1967 Six Day War Israel liberated Judea and Samaria as well as eastern Jerusalem from Jordanian occupation, and likewise liberated the Golan from Syria. However, it has yet to annex the regions, even though the 2012 Levy Report determined its presence there is legal under international law.
When asked about the contradiction involved in how the moves to close Israeli factories in Judea and Samaria will cause Palestinian workers to lose their jobs, the EU official said he is aware of the problem, but that the closing of the factories will also harm Jews living in the region and their economic stability and ability to live there.
He stated his opinion that the damage to the Palestinian Arabs was balanced out by the damage to Jews in the area, and therefore the move's benefits outweigh its defects.
Responding to the European Parliament decision to label the products, Prime Minister Binyamin Netanyahu earlier this month said, "the root of the conflict is not the territories, and the root of the conflict is not the settlements."
"We have historical memory of what happened when Europe labeled Jewish products," he added, referencing how the genocidal Nazi regime labeled Jewish products.