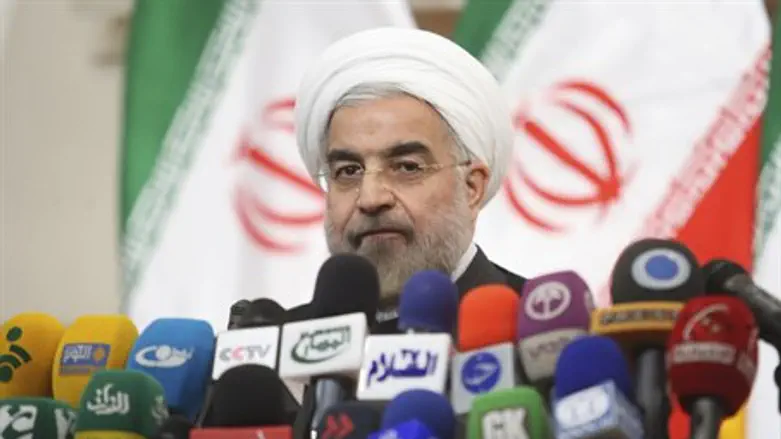 Iranian president Hassan Rouhani
Reuters
Iranian President Hassan Rouhani has said most Iranians support the nuclear deal he signed with the United States and that state institutions will likely ratify it.
In an interview with the CBS show "60 Minutes" broadcast Sunday in the United States, Rouhani said America was still distrusted in his country but that the deal would help mend ties.
"The majority of our people, in opinion polls, have a positive view of the agreement," he told CBS interviewer Steve Kroft.
"And usually institutions like the parliament and the Supreme National Security Council, are usually not far removed from public opinion and move in that direction," added Rouhani.
In April, President Barack Obama's administration signed a deal with Rouhani's government to release Iran from many of the economic sanctions harming its economy in return for tight controls on its nuclear program.
But Iran is ultimately led not by Rouhani but by supreme leader Ayatollah Ali Khamenei, and powerful factions in Tehran have spoken out against a deal they feel unfairly curtails their sovereignty.
"The enmity that existed between the United States and Iran over the decades, the distance, the disagreements, the lack of trust, will not go away soon," Rouhani admitted in the interview.
"What's important is which direction we are heading? Are we heading towards amplifying the enmity or decreasing this enmity? I believe we have taken the first steps towards decreasing this enmity," he added.
In excerpts released from the interview on Saturday, Rouhani said that when Iranian crowds chant "Death to America" during rallies in Tehran, Americans shouldn't take it personally, explaining the famous Friday ritual is a reaction to previous Washington policy decisions that hurt Iran.
"This slogan that is chanted is not a slogan against the American people. Our people respect the American people," he insisted.
"The Iranian people are not looking for war with any country," continued Rouhani. "But, at the same time, the policies of the United States have been against the national interests of Iranian people — it's understandable that people will demonstrate sensitivity to this issue."
Rouhani, despite his comments, has personally presided over "Death to America" chants in Iran, as shown in a video released by Prime Minister Binyamin Netanyahu's office last Independence Day.
Khamenei, who has the final say on all policy matters, has repeatedly warned against the rise of Western influence in Iran after the nuclear agreement.
He has also said he agrees with the "Death to America" chants, claiming the goal of the United States is "to put the people against the system."