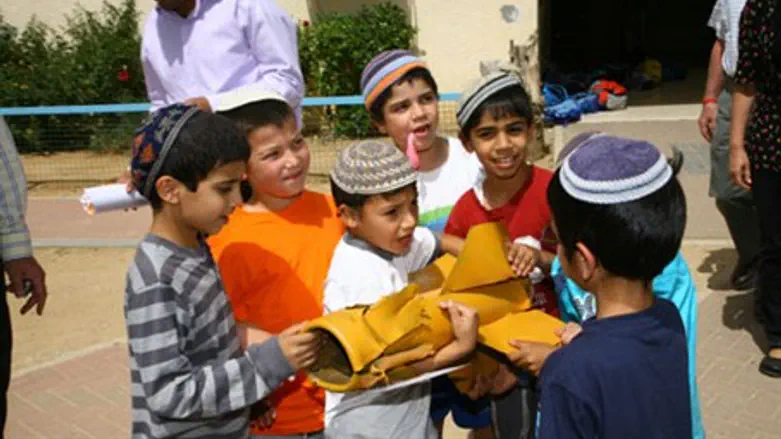 Children hold a Kassam rocket in Sderot
(Israel News Photo: Sasson Tiram)
Sderot Mayor Alon Davidi on Sunday called a meeting with top city engineers and officials to discuss the city's response to a Gaza terror rocket attack last Friday – the construction of a playground to serve neighborhood residents. The purpose, said Davidi, was "to prove that the spirit of the Jewish people, and especially the spirit of the people of Sderot, will survive and thrive" regardless of the attacks.
The playground will be built on the site of a rocket attack on Friday night, at the night of Shabbat.
"Where they seek to destroy and harm, we will build and reclaim," said Davidi. "We are strong, and we are standing bravely in the face of the attacks that have continued for over a decade. We will continue to protect and defend the borders of Israel. We will not bow to terror – just the opposite, we will rise like the phoenix, and we will continue to build and rehabilitate the destruction."
The quiet and calm of the Sabbath in Sderot were disturbed on Friday evening, as shortly before 9:00 p.m. the "Red Alert" rocket siren was sounded in the area. Shortly thereafter, a rocket fired by Gaza terrorists exploded near a home inside Sderot. There were no physical injuries, but a parked bus sustained damage from the rocket, as did the home itself.
This marks the first time since the Operation Protective Edge in the summer of 2014 that a Gaza rocket landed inside the city.
Friday's attack is the latest in a series of rocket attacks from Gaza, though quite a few of them have missed the mark and actually landed in Gazan territory. In one incident two weeks ago, Palestinian Authority-based media reported that one rocket exploded in the vicinity of a Gaza home, causing casualties.
Davidi said that "terror will not stop us from taking joy in life, and from our daily routine. In a year we will inaugurate this park, and instead of the suffering the Gaza terrorists seek to impose on us, the sound of happiness and cheer will be heard."