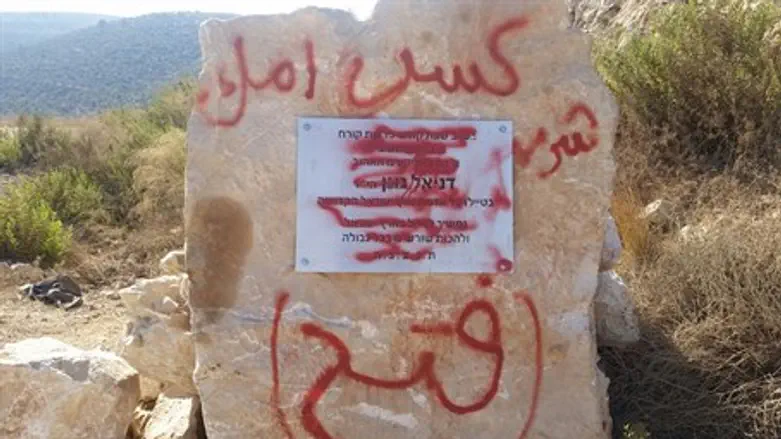 Vandalized memorial
Arutz Sheva
Three weeks after its unveiling, the memorial slab for slain hiker Danny Gonen has been defaced by Arab vandals, Channel 10 reports. 
With red paint, the vandals graffitied over the plaque honoring Gonen, as well as scrawling the name of Palestinian party "Fatah" on the memorial stone at the Ein Bubin spring near Dolev.
Gonen, 25, was murdered in a shooting attack while returning with a friend from a hike at the site three months ago. 
A resident of Lod, Gonen and his friend were approached on a dirt road by a terrorist who asked for water, before opening fire. Gonen was fatally wounded, dying later at a hospital. 
On July 1, forces from the Israel Security Agency (ISA) and the IDF arrested terrorist Mohammed Abu Shahin, a Fatah activist from Qalandiya who admitted to murdering Gonen. 
Four other Palestinian terrorists from the village just west of Jerusalem were also arrested on suspicion of helping Abu Shahin in the shooting as well as participating in numerous other terror attacks. 
Police have launched an investigation into the vandalism of Gonen's memorial and are looking for suspects.