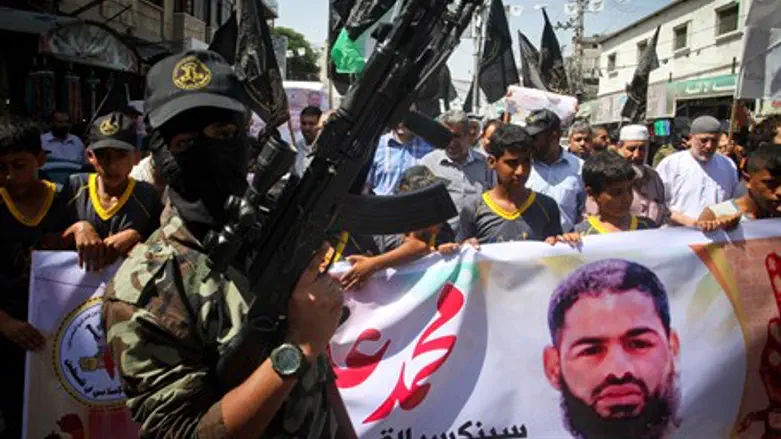 Islamic Jihad protest for Mohammad Allan in Gaza (file)
Abed Rahim Khatib/Flash 90
Islamic Jihad terrorist Mohammed Allan restarted his hunger strike on Wednesday as he was released from hospital and immediately rearrested on a new administrative order.
But according to Jawad Boulos, legal counsel for the Ramallah-based Prisoners Club of the Palestinian Authority (PA), Allan has already scrapped his renewed hunger strike.
Boulos told the Palestinian Arab Ma'an News Agency that he visited Allan in the Ramle prison medical clinic on Friday. According to the official, Allan suspended his hunger strike after consultations regarding his health and legal status.
Boulos said Allan is currently using a wheelchair, after having just recovered from a two-month long hunger strike that led the government to fold and cancel his previous administrative detention.
Allan is suspected of recruiting and directing suicide bombers and aiding fugitive terrorists during the vicious terror war known as the Second Intifada. His administrative arrest with no trial comes either due to a lack of direct evidence or so as to protect sensitive sources of information.
His rearrest raised fears that Islamic Jihad would follow through on its threats to breach the Gaza ceasefire, leading to the deployment of Iron Dome anti-missile systems to Ashdod on Thursday.
Several other jailed terrorists have reportedly followed Allan's example to try and hunger strike their way to freedom.
Three Arab prisoners from the Bethlehem area, one from near Hevron and another from Shechem (Nablus) launched a hunger strike on August 20, while another from Hevron started a similar strike on September 1.
Many warned that the refusal of medical staff at Barzilai Hospital in Ashkelon to force feed Allan in accordance with new laws would lead to a wave of hunger strikes in bids for freedom. Likewise the Supreme Court decision to cancel Allan's administrative detention - despite having upheld the detention just 15 days earlier - was strongly criticized.