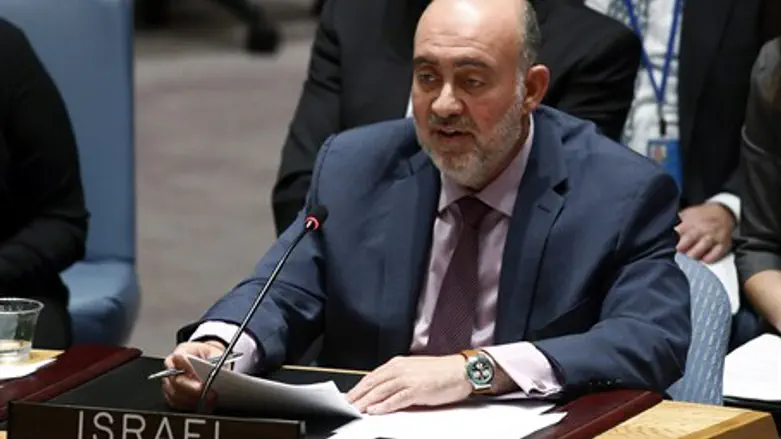 Israel's Ambassador to the United Nations Ron Prosor
Reuters
Israeli ambassador to the United Nations (UN) Ron Prosor responded Friday to the UN Security Council, which called for "calm" and "status quo" - namely the banning of Jewish prayer on the Temple Mount - despite days of Muslim rioting.
"This was a statement which refers to the Temple Mount in the name of the Muslims only," Prosor fired, "and cites the right of Muslims to be in and pray in the complex, but completely ignores the violence of the Palestinians, the connection between the Jewish people to the Temple Mount, and the right of non-Muslims to enjoy freedom of access to the site."
"Instead of the Council calming, it favors those trying to inflame the region," he continued. "When the Palestinians decide to burn the Temple Mount, [Palestinian Authority chairman Mahmoud] Abbas fuels the violence and the Security Council gives it a tailwind, and it's a recipe for escalation in the region." 
Prosor then continued to comment on Abbas's recent statements, including many calling for open violence on the Mount. 
"Just yesterday he announced 'the dirty feet of the Jews defile Al-Aqsa,'" he said. "This rhetoric is obscene and dangerous."
He stressed that "Israel is determined to maintain holy sites of Judaism, Islam and Christianity in Jerusalem," Prosor noted. "Israel is also required to maintain the status quo on the Temple Mount, as declared by Israeli Prime Minister Binyamin Netanyahu - not only this week, but many times before."
"The UN's failure to point the finger at those responsible for violence breaking out will destabilize the region and encourages the continuation of Palestinian riots on the Temple Mount," he concluded. 
Violence has been going on at the Temple Mount complex since before Rosh Hashanah, when masked Muslim rioters hurled rocks and fireworks at police on the Temple Mount, as well as firebombs near two entrances to the site.
The clashes continued after the holiday as well, as once again masked Muslim youths gathered around the mosque and threw rocks and other projectiles at police who had entered the compound in large numbers and responded with stun grenades. 
However, Israel's response to the riots has resulted in it being internationally criticized, instead of the Arab rioters who are behind the clashes.
The UN Security Council joined this chorus of criticism late Thursday night, insisting that only maintaining the ban on Jewish prayer would "promote[s] the prospects for Middle East peace between the Israelis and the Palestinians."