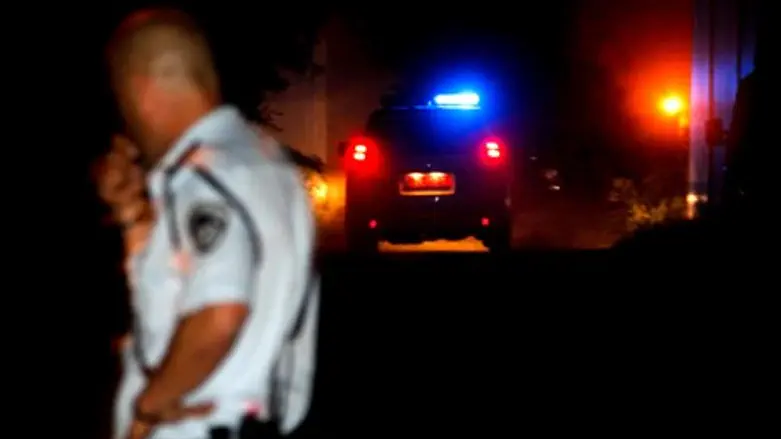 Terror in Jerusalem (illustration)
Flash 90
Following the lethal rock attack in the southeastern Jerusalem neighborhood of Armon Hanatziv on Sunday just before the Rosh Hashanah holiday, a heated protest broke out in the neighborhood on Tuesday night at the end of the holiday.
Alexander Levlovitz (64) was murdered in the attack by Arab terrorists, after the rock slamming through the car's window made him lose control of the vehicle and crash.
Neighborhood resident Ari Kolker told Arutz Sheva from the sidelines of the protest about the deteriorating security situation, due to terrorists from the adjacent neighborhood of Tzur Baher, and how security promises from the police and the government have not materialized.
"They understand force. They don't understand rules and being spoken to nicely, they understand force," said Kolker, noting the large number of terrorists who have emanated from Tzur Baher. "When they understand they have to answer to somebody for what they're doing they'll stop. Until then, we're going to be here screaming and shouting till the police finally start doing their job."
Noting that he made aliyah to Israel from New York, Kolker commented that from his experience in America, seeing police focusing on limiting the Jewish protest in response to the attack instead of cracking down on the terrorists is an incomprehensible reality.
Arutz Sheva also spoke during the protest with Yehuda Ben-Yosef, head of the neighborhood's community administration.
"We had a horrifying Rosh Hashanah," Ben-Yosef said. "It's hard to start the new year this way, our lives are like Russian roulette."
The community leader noted how a two-year-old infant girl was hit in the head by a rock in a similar attack on the neighborhood in November 2013, and at that time only thanks to great luck did she avoid life-threatening injury.
Describing the tense situation in the neighborhood, he said, "we don't know who the rock will hit next. We demand to increase the security forces, to add cameras to and increase the fences so that the seam line (between neighborhoods) will be secure. We have to stop this terror."
Prime Minister Binyamin Netanyahu responded to the attack by holding a security meeting on Tuesday night, in which he promised to increase deterrence and take more strict security steps.
However, Jerusalem Councilman Arieh King patrolled the Arab hotbeds of terror in the city later on Tuesday night and reported that the police presence is completely absent still, notwithstanding Netanyahu's promises.