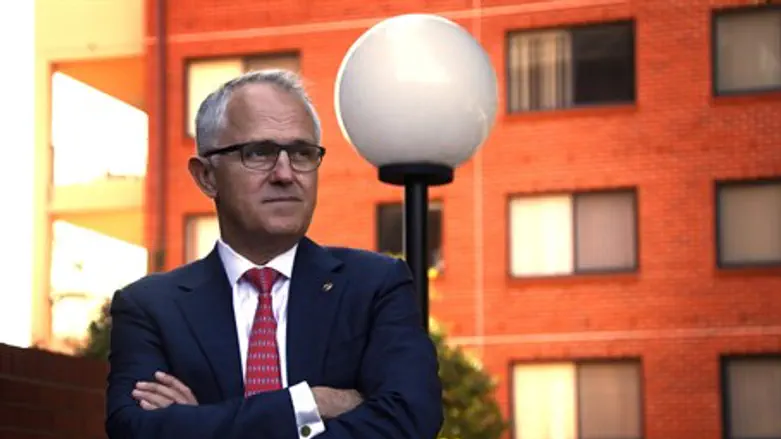 Malcolm Turnbull
Reuters
Australia has a new prime minister - one who claims to have Jewish roots and has also expressed a desire in advancing and increasing relations with Israel. 
Malcolm Turnbull, a former communications minister, was sworn in on Tuesday as Australia's latest leader, replacing outgoing prime minister Tony Abbott. 
In an interview with the Australian Jewish News in 2013, Turnbull asserted he had Jewish roots, saying his "mother always used to say that her mother's family was Jewish."
"I grew up in the eastern suburbs and as we all observe there were a lot of Jews in the eastern suburbs and I have always been very comfortable [there]," he added, in reference to his constituency Wentworth in New South Wales, which has a large Jewish population.
Turnbull noted that he has always felt at home among the Jewish community, despite not being a member. 
"There is no doubt that the strong traditions of family and the whole heimishe atmosphere of the Jewish community… for me - as someone who is a good friend, but not part of it - I find very admirable," he said, using a Yiddish term meaning homey or friendly.
More recently, Turnbull attended the Australian Zionist Federation's annual meeting, according to the Australian Jewish News.
Speaking at the meeting in August, Turnbull expressed support for the Jewish state, noting that while Israel and Australia had "very good" ties, more could be done. 
"We need to collaborate more with Israel, particularly on matters of science and technology. The more we can do with Israel, the better," he was quoted as saying.
Australia was one of seven countries to stand with Israel in opposition last week when the United Nations General Assembly voted to raise the Palestinian flag at its headquarters in New York.