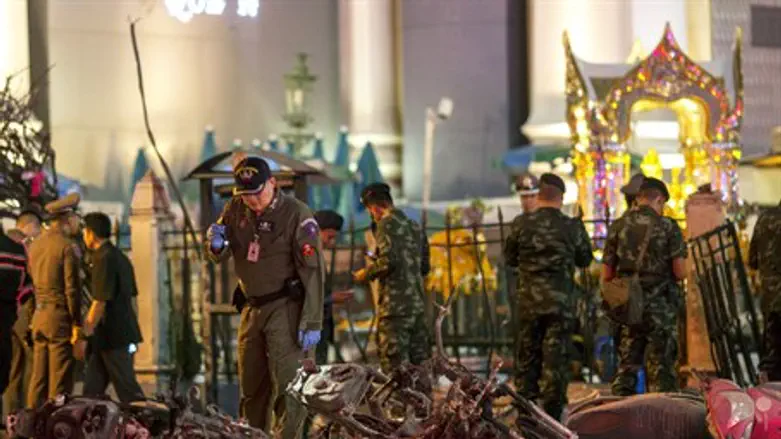 Thai police investigate site of Bangkok bombing (file)
Reuters
Thai police have revealed that the horrific bombing attack on a Hindu shrine in Bangkok last month that murdered 20 people was masterminded by Chinese Muslims of the Uyghur minority.
The mastermind of the bombing has been named by Thai police as "Izan," and reportedly fled to Bangladesh the day before the bombing on a Chinese passport, reports the Washington Post on Thursday.
Likewise another man who admitted to being part of the group behind the bombing is currently being held by police and has been identified as Yusufu Mierili. He was nabbed on September 1 close to the border with Cambodia in possession of a Chinese passport, which listed him as hailing from the Uyghur homeland of Xinjiang in western China near Pakistan.
In the Xinjiang Uyghur Autonomous Region separatist Sunni Muslim Uyghur factions have conducted numerous attacks, including those with guns and explosives. China has cracked down in response and is trying to have them blacklisted as terrorists, although much of the international community has denounced the Chinese actions, accusing the state of repression.
It appears the clashes in Xinjiang have now become an international problem. Speculation has suggested the bombing in Bangkok was meant as revenge for Thailand deporting over 100 Uyghur Muslims who were in the country illegally back to China in July.
Thailand has been trying to play down the "international terrorism" aspect of the incident, likely so as to avoid any damage to the tourism industry that is a mainstay of the Thai economy. Instead the police have claimed the attackers may have been human traffickers smuggling Uyghurs to Turkey.
China has also been hushing up the terror angle - in an unusual move, given that it has often tried to emphasize Uyghur attacks so as to gain international support for its crackdown as being a part of the general war against terrorism. Apparently, China views the bombing as a security embarrassment it would rather not focus on.
The Uyghur connection
"I think we can now say with a reasonable degree of certainty that there is a Uyghur/Xinjiang angle here, yet the motivations and implications remain cloudy at best," James Leibold, an expert on China's policies regarding ethnic groups at Melbourne's La Trobe University, told the Washington Post.
Leibold said several motives were possible, including warring human trafficking groups or else unstable Thai politics.
"Regardless of these unanswered questions, the incident highlights the increasing internationalization of the 'Uyghur issue' and the 'Xinjiang problem.' The increasing flow of people, ideas and social media imagery into and out of Xinjiang renders these issues far more difficult for the Chinese government to deal with," he added.
While the Chinese authorities have not played up the Uyghur terror angle of the bombing, Leibold estimated the incident would nevertheless help China's "quest for additional resources" to crackdown on Uyghur insurgents, while human rights groups warn of more repression.
Another element that has come clear in the investigation is the Turkish angle - one suspected member of the group that was arrested by Thai police held a fake Turkish passport.
Zhu Feng, an international affairs expert at Nanjing University in southern China, told the Washington Post that "there is no denying the fact that there is an underground, cross-border organized crime group and a secret conduit for international terrorists" from Xinjiang to Turkey through Thailand.
Feng said international condemnation of China's crackdown in Xinjiang is only "helping these underground criminal activities."
Tensions in Xinjiang have spilled on to the international scene before, with Uyghur extremists leaving to conduct terrorism abroad.
Just this January, China reported that 300 citizens, most of them likely Uyghurs, had gone to join Islamic State (ISIS) in Syria and Iraq via Malasyia.