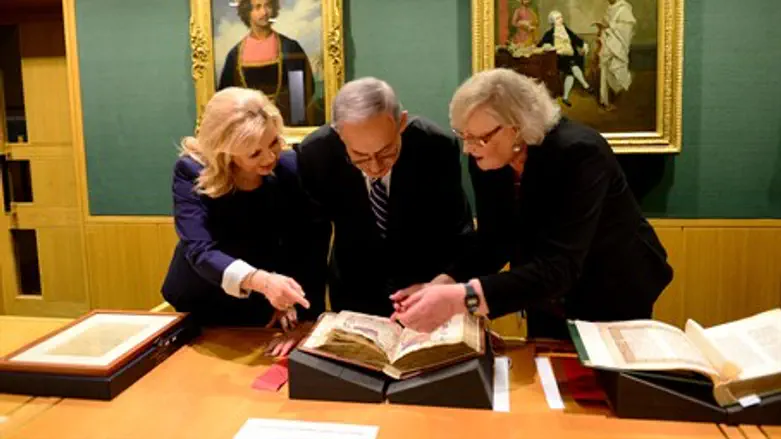 Netanyahus visit British Library
Prime Minister's Office
Prime Minister Binyamin Netanyahu and his wife Sara visited the British Library in London on Thursday night, as part of his official visit to the UK. 
Both were given an overview about the library, where they were briefed on the library in general and two items in particular.
The first: the original 1917 Balfour Declaration, in which then-UK Foreign Secretary Arthur Balfour declared that Britain would support the establishment of a national home for the Jewish People in the Land of Israel.
Netanyahu noted that the Declaration is an important historical document for the Jewish people. 
The second - to the Prime Minister's surprise - was a volume of Herzl's writings that the Prime Minister's father had edited in 1937 when he was only 27 years old.
The Prime Minister said that Herzl was a visionary and great leader and noted the link between him and the Balfour Declaration.
The Netanyahus also viewed a Passover haggadah, Tanakh, an edition of the Talmud (Tractate Bava Kama) and other volumes.
The British Library is the largest reference library in the world, with some 150 million items archived. Each year, approximately 3 million items are added to the collection.