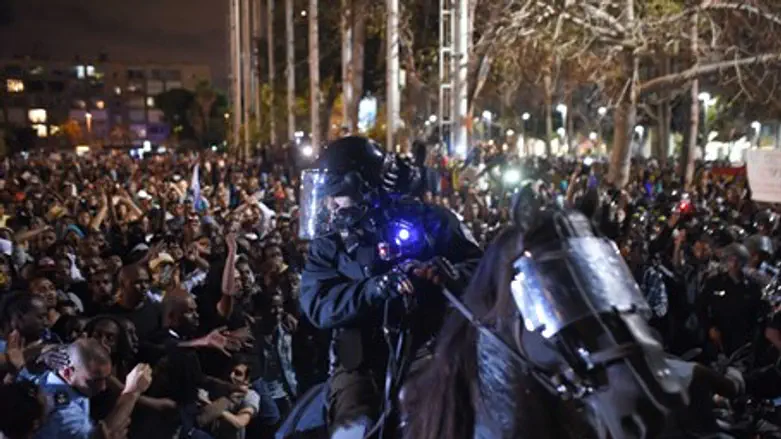 Ethiopian Jews protest in Tel Aviv facing riot police
Ben Kelmer/Flash 90
Renewed protests from members of Israel's Ethiopian community against racism and police violence will be held at 4:00 p.m. on Monday outside of the national police headquarters in Jerusalem. 
Protests from the community began in May following outrage over the beating of Damas Pakada, an Ethiopian Jewish soldier who was brutally assaulted by a police officer in Holon. 
The protests - which ranged from Jerusalem to Tel Aviv - often turned violent and saw dozens of demonstrators arrested. 
Jerusalem Police Chief Moshe Edri held a special discussion on Monday morning with the district's top officers ahead of the demonstration. 
Police are preparing for a scenario in which protestors block major roads in the capital, as well as the possibility of traffic should the protestors indeed block streets and start to riot. 
The latest demonstration is a response to the police's decision to close the case against the policemen who beat Pakada, citing a lack of "public interest," as well a recently published video depicting another policemen shooting a young Ethiopian with a taser gun. 
Filmed by a neighbor, the video shows the Ethiopian being asked by police to enter a patrol car, when suddenly, second later, the cops electrify him with the taser. The man screams "call my parents, call my parents!" before being taken away in the patrol car.
"There are no words," Inbar Bogale, one of the organizers of Monday's protest, told Channel 2. "It is an embarrassment that a policeman allows himself, because a citizen is black, to come and bother him, to come and shoot him with a taser."
"We are tired of walking around like this - being frightened to go outside because you know you might encounter a policeman."