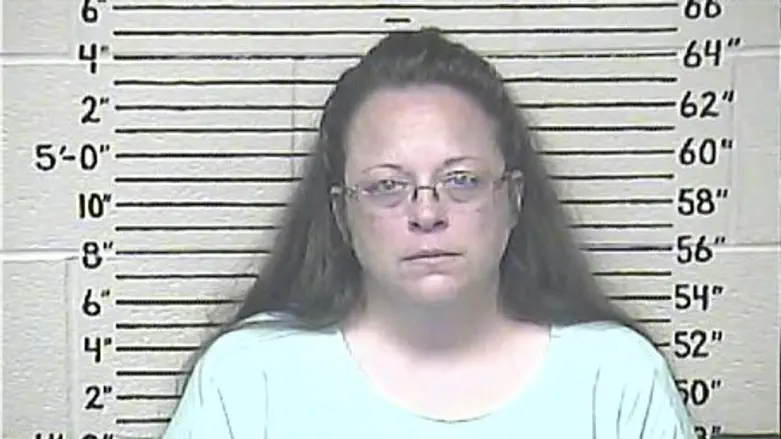 Kim Davis's booking photo
Reuters
Rowan County Clerk Kim Davis entered her fourth day as an inmate at the Carter County Detention Center Sunday, after refusing to license gay marriage. About 300 people gathered on the lawn outside the jail to support her Saturday, chanting "thank you, Kim" and waving signs that said "Kim Davis for President" and "God gives his hardest battles to his strongest soldiers."
Davis was held in contempt of court and jailed on Thursday for refusing to issue marriage licenses to same-sex couples, despite being ordered to do so several times by the courts.
Mathew Staver, Davis's chief legal counsel, compared her persecution to that of Jews faced in Nazi Germany. Staver told the radio show "Crosstalk" Wednesday, "[Davis is] there to do a duty, a job and the job duty was changed. Does that mean that if you're Christian, don't apply here? ... What happened in Nazi Germany, what happened there first, they removed the Jews from government public employment, then they stopped patronizing them in their private businesses, then they continued to stigmatize them, then they were the 'problems,' then they killed them."
The next day, Staver spoke on talk show "Washington Watch," and repeated the comparison.
"Back in the 1930s, it began with the Jews, where they were evicted from public employment, then boycotted in their private employment, then stigmatized and that led to the gas chambers," Staver explained. "This is the new persecution of Christians here in this country."
"You cannot obey something that is contrary to God's law," Staver continued. "And we would easily say, well, what would happen if the government forced you to turn over a Jew in Nazi Germany? All of us would say we wouldn't do that, we wouldn't listen to that. Well, we're about ready to walk into the moment."
Davis is expected to remain in jail for at least a week while her lawyers appeal the ruling.
"They're not gonna let her out and she's not gonna bow... I promise you that," Davis' husband, Joe, told journalists Thursday. He said that his wife had been put in jail "illegally" and vowed to "ask [Kentucky Gov. Steve] Beshear to do his job or step down."
In Israel: doctor is fired for being anti-gay
Israel does not recognize gay marriage but the issue is a contentious one between liberals and conservatives. A medical doctor, Dr. Sudi Namir, was fired from the Israel Medical Association Ethics Committee last month for controversial comments he made about homosexuals on an internet forum.
In the post during a discussion regarding gay surrogate parents, Dr. Namir said: "I feel sorry and pray for all those who are sick in their bodies and minds... a pervert is a pervert is a pervert, you can call him whatever you want, he's a pervert. All the abominations of yesterday have become today's norm."
He was promptly fired from the committee after an article in Israel Hayomhighlighted the comments.
Speaking to Arutz Sheva Dr. Namir said he was "in a state of emotional shock" at the decision to fire him for expressing sentiments he said were merely reflective of the halakha (Jewish law).
He accused the Medical Association of violating its own laws by striking him off over the comments, and claimed his views were representative of "the majority of the Jews that live in the State of Israel."
"It's a political and prejudiced opposition," he said, voicing confidence that his appeal would be accepted.