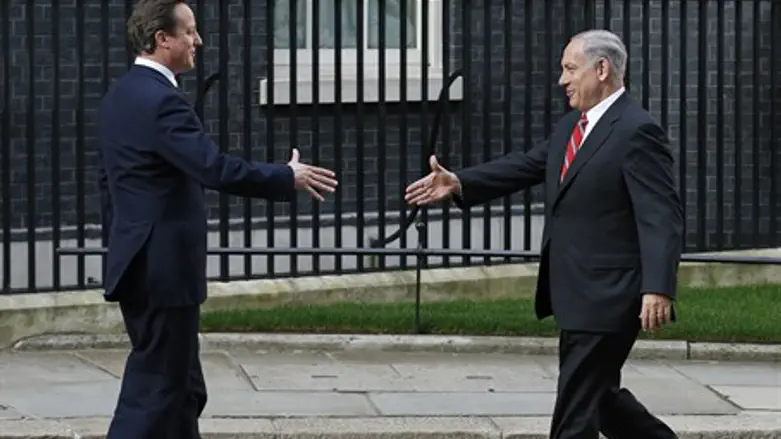 Netanyahu and Cameron (archive)
Reuters
The number of signatures on an online petition calling for the arrest of Prime Minister Binyamin Netanyahu during his upcoming visit to the UK on Saturday passed the 100,000 mark.
The petition, uploaded to the UK Government's official website, calls for Netanyahu to be arrested under international law for "war crimes" during last summer's Israel-Gaza war.
It notes that Netanyahu is due to visit London in September and adds, "Under international law he should be arrested for war crimes upon arrival in the UK for the massacre of over 2000 civilians in 2014".
The 100,000 signature mark is significant, as any e-petition with 100,000 signatures should be considered for debate in the House of Commons. However, due to the complexity of the issue and the relations between Israel and Britain, the petition is not likely to be discussed by parliament.
The British Government recently issued a statement in response to the petition, since under British law, the government must respond to all petitions that get more than 10,000 signatures.
In that statement, the government said that under UK and international law, "visiting heads of foreign governments, such as Prime Minister Netanyahu, have immunity from legal process, and cannot be arrested or detained."
The statement went on to emphasize Israel's right to self-defense.
"The Prime Minister was clear on the UK's recognition of Israel's right to take proportionate action to defend itself, within the boundaries of international humanitarian law.
"We condemn the terrorist tactics of Hamas who fired rockets on Israel, built extensive tunnels to kidnap and murder, and repeatedly refused to accept ceasefires."
Netanyahu will depart this coming Wednesday for his visit in London, during which he will meet with Prime Minister David Cameron. The visit is expected to be a quick one, and Netanyahu is expected to return to Israel two days later, on Friday.