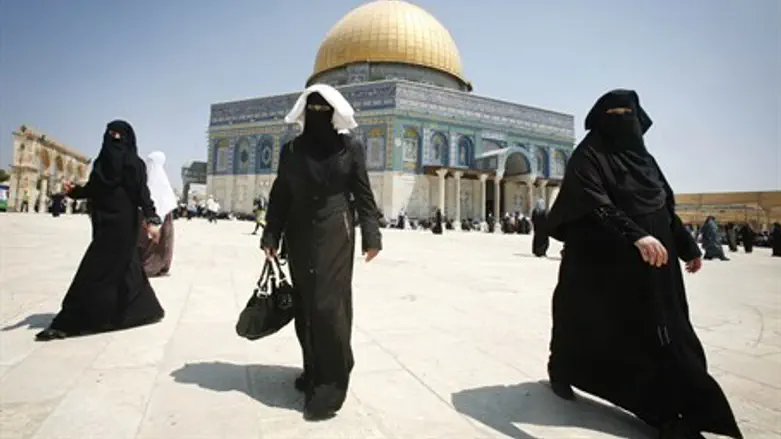 Temple Mount.
Israel news photo: Flash 90
Israeli authorities on Thursday distributed a list of 40 Arab women who are banned from entering the Temple Mount, local sources told the Bethlehem-based Arab news agency Ma'an.
The women, who are members of the Islamic Movement's "Murabitat" group, are reportedly banned from entering the Mount for periods between 10 and 60 days.
Ma'an cited Jerusalem police commander Avi Bitton as saying on Wednesday that the list is made up of women who "cause trouble and damage" at the site, but that other Murabitat women not on the list would be allowed entry. Bitton reportedly said that the the recent restrictions were imposed "to prevent any tensions in the area, as they violate order, and present a threat to visitors."
Elishama Sandman, Director of Yera'e, a Jewish Temple activists' group, told Arutz Sheva Friday that after eight days in which police prevented female rioters from entering the Mount between 7 and 11 AM, Jews who ascended the Mount on Thursday did encounter some Murabitat who disturbed them, but that these were few in number and that the situation is a "a great improvement" compared to the past. He confirmed that Arabs said that police have banned several dozen Murabitat from entering the Mount.
Director of the Al-Aqsa Mosque, Sheikh Omar al-Kiswani, told Ma'an that in addition to Israeli police preventing women from entering the mosque, forces also imposed restrictions on the entrance of men.
Male students of Islamic religious schools inside the Temple Mount compound have reportedly only been allowed entrance to the compound through the Hatta Gate with a teacher as an escort, while female students also require an escort and have been only allowed entry through the Chain Gate.