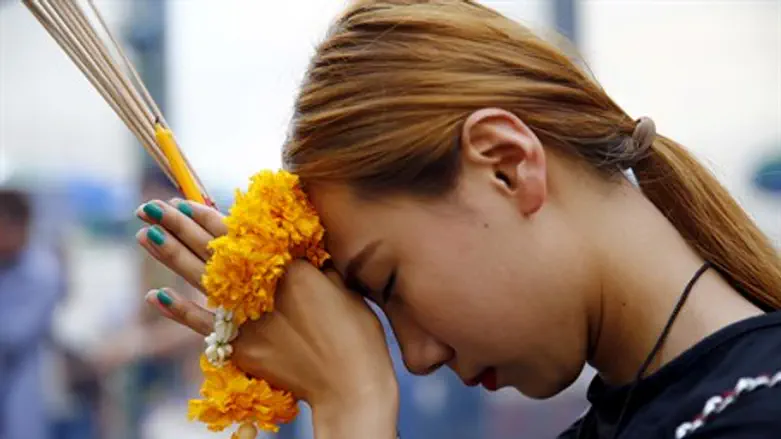 Woman prays at the Erawan Shrine in Bangkok following attack
Reuters
Police in Thailand have arrested a man they say is a "main suspect" over the deadly bombing of a tourist hot spot in Bangkok last month.
The man was arrested in Sa Kaeo province, east of Bangkok on the border with Cambodia, Thai Prime Minister Prayuth Chan-ocha said.
It follows the arrest of another suspect on Saturday. That man was nabbed by police in a predominantly-Muslim neighborhood on the outskirts of Thailand's capital, and was found in possession of bomb-making equipment linked to the August 17 attack, along with 10 passports.
There is still a warrant for a 26-year-old Thai Muslim woman named Wanna Suansan, though someone claiming to be Suansan told AFP news agency that she has not been in Thailand for three months.
The attack on the Hindu Erawan Shrine, which is frequented by tourists from across the world, killed 20 people and left more than 100 wounded.
Neither of the suspects' names have been released, although photos of them in police custody have been circulated by Thai police.
The suspect arrested Saturday has been described as a 28-year-old "foreigner," with unconfirmed reports suggesting he is Turkish.
August's terrorist attack was the worst of its kind in Thailand in living memory, and sent shock waves throughout the country. Nerves were further frayed after another attempted bombing shortly afterwards nearby; no one was injured in that attack, and police have not yet said if the two were linked or announced a motive.