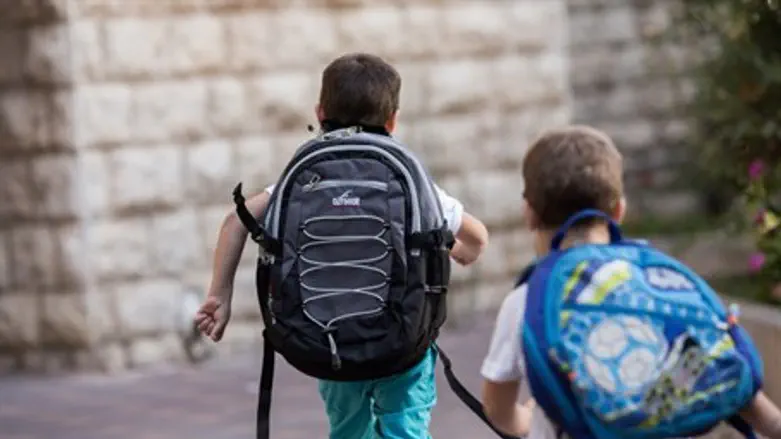 Israeli children get ready to start school (illustrative)
Yonatan Sindel/Flash90
2,194,931 students and children start the school year on Tuesday - including 157,477 first graders, who will begin their formal education in the Israeli school system.
118,721 twelfth graders will be finished with the formal education system at the end of the academic year; 166,208 teaching staff will begin the academic year alongside them. 
The first school week will be devoted to discourse on violence and the prevention of racism in society, a decision made against the backdrop of the Jerusalem Gay Pride parade stabbing and the arson of the Palestinian Arab home in Duma that led to the death of two members of the Dawabshe family. 
Following reforms to the preschool system, 4,600 preschools and kindergartens will open for 2015-2016, now with one teacher and two teacher's aides per classroom. 
After widespread strikes and a push from parents nationwide, Israeli classrooms have finally been scaled down to smaller class sizes, and will now contain between 32-34 children. The reform has so far been instituted only with incoming first graders, and a class nationwide will be added each year; within five years, all elementary schools with grades 1-6 will have smaller class sizes. 
Following a nationwide campaign to strengthen math and science studies, the Ministry of Education has allowed all high schools to teach advanced mathematics (5 units instead of 4 for the Bagrut matriculation exam - ed.), and 100 new mathematics tracks open this year. Within four years, the Ministry of Education seeks to have some 18,000 Israeli students learning advanced mathematics - nearly double the current rate. 
The "equal opportunity" program for children with special needs also takes effect this year, with some one billion shekel ($255 million) allocated for the project. As part of the project, 1,000 classrooms are being built to accommodate children with hearing impairments; buildings nationwide are also being equipped with handicapped toilets, ramps, and elevators. Special tablets are also being made available for the visually impaired.