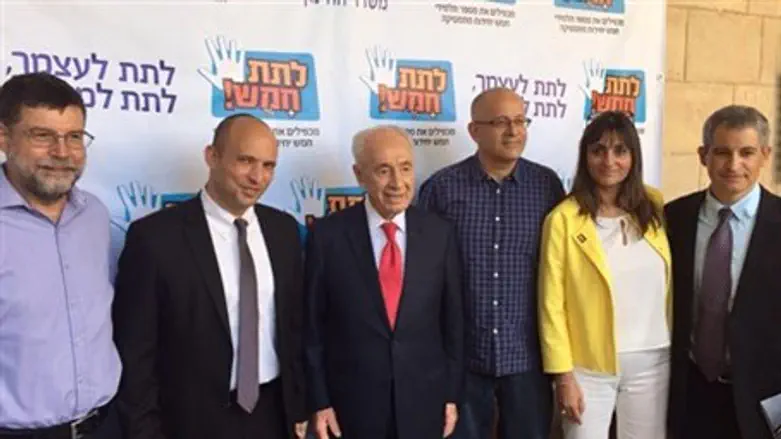 Bennett launches math program
Mark Neyman, GPO
Education Minister Naftali Bennett (Jewish Home), former President Shimon Peres and Israeli high-tech companies launched on Sunday a national education plan to strengthen the study of mathematics.
The program includes such advancements as increasing the number of mathematics teachers and their resources, recrutiting high-tech professionals to meet with and lecture students, and bonus points for college applications
The goal of the program is to double the number of students learning five-point mathematics, the highest level for high school matriculation exams in Israel, to 18,000 within four years. 
"Mathematics [has the capability of being] a strategic threat, and a strategic threat needs a national program," Bennett stated at a press conference to launch the initiative. 
"The role of leadership is to establish national objectives and pursue them will all our might - we'll double the number of students in the advanced courses within fours. Gone are they days when residence determined which level courses students could take." 
"The national mathematics program will also strengthen the child's future and help the future of the State of Israel," Bennett stressed. 
Peres also spoke at the conference, noting "Israel is blessed with talent that can reach unforeseen heights, but they must take care.
"We must not accept a situation in Israel in which children who want to learn five-point mathematics in schools are prevented because of lack of means," the veteran politician stressed. "A financial deficit can be fixed later but an educational deficit is irreparable."
Peres asserted that in order to compete in the global market, Israel must invest in promoting first-class science to students.
"Professions in science and technology are based on mathematics, and therefore, promoting academics and scientific excellence are an existential necessity and a primary interest to the future of Israel," Peres concluded.