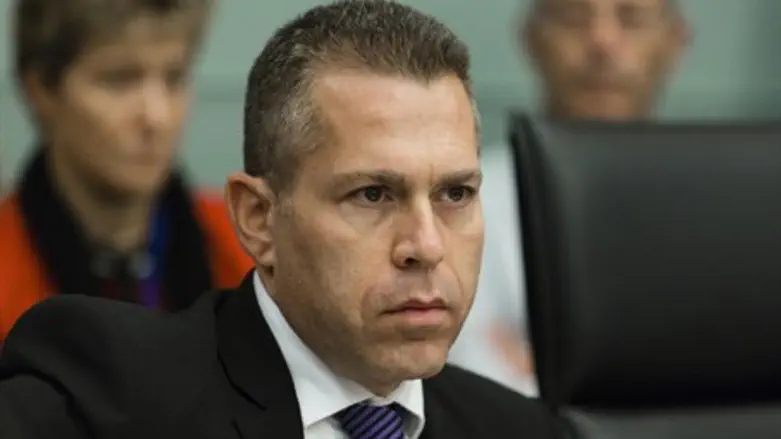 Minister Gilad Erdan
Flash 90
Internal Security Minister Gilad Erdan will meet with Major General (res.) Doron Almog on Sunday and listen to his opinion on the appointment of Brig. Gen. Gal Hirsch as police commissioner.
In a military report published months after the Second Lebanon War, Almog skewered Hirsch, holding him responsible for the kidnappings of Eldad Regev and Ehud Goldwasser, which sparked the war with Hezbollah in the summer of 2006. 
Almog charged in the report that Hirsch should no longer hold command positions in the IDF and has made similar statements recently in regard to Hirsch's appointment as police commissioner. 
Also attending the meeting is Major General (ret.) Yoram Yair, who headed the committee that investigated the functioning of the Galilee Division under Hirsch's command during the Second Lebanon War. 
The meeting comes two days after Erdan met with bereaved parents to hear their complaints against his appointment of Hirsch.
Following the meeting, Erdan promised to weigh their claims and reassess his appointment of Hirsch.
Hirsch, meanwhile, faces another battle following allegations reported by Channel 2 on Friday that the FBI and the Israeli police have been working together for two years on a corruption case involving his business arrangements. 
Dror Brotfeld, Hirsch's attorney, accused the police on Sunday of purposely trying to tarnish Hirsch's name in their anger over an external individual being chosen to lead the police. 
Hirsch too dismissed the reports, calling them a "fairy tale."He added that "every few hours interested parties drip lies and fairy tales to the media, intending to tarnish my name."
On Tuesday the Turkel Commission is to gather and discuss the appointment of Hirsch as police chief. Retired Judge Yaakov Turkel promised to present the position of the bereaved parents and former police commissioners who oppose the appointment in the meeting.