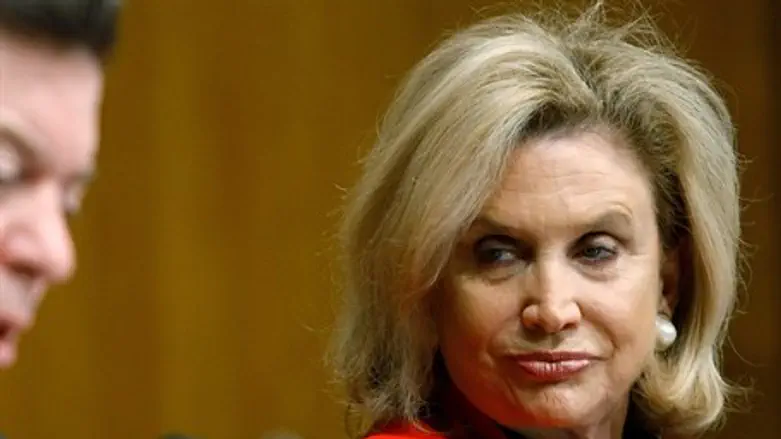 Carolyn Maloney
Thinkstock
The Iranian state-run PressTV on Friday reported that "Jewish Congresswoman Carolyn Maloney" of New York had become the 14th Democrat in the House of Representatives to announce her opposition to the Iranian nuclear deal.
While noting a member of Congress's heritage could of its own appear to be an anti-Semitic attempt to delegitimize the legislator's reasoned opposition by claiming narrow bias, there's an even larger problem with the claim - Maloney, as her name should have suggested, isn't Jewish.
Although she has been a strong supporter of Israel, Maloney is herself an Irish American and a Presbytarian Christian. She even is a member of the Ad Hoc Congressional Committee for Irish Affairs.
But that didn't stop PressTV from running the blaring headline: "Jewish House Democrat will reject Iran nuclear agreement."
What the article did get right is that Maloney did indeed come out against the deal on Thursday, publishing a statement declaring that "as a matter of conscience, I have decided to oppose it."
"This is an agreement with a nation that has not honored its non-proliferation commitments in the past. I am concerned that, even if Iran complies with the restraints spelled out throughout the life of the agreement, the deal does not block Iran from eventually acquiring nuclear weapons. It could also make the region even more dangerous by giving Iran access to financial resources, weapons and power."
Maloney went on to detail the numerous problems with the deal, such as the 24 day nuclear site inspection waiting time, the removal of uranium enrichment limits in 15 years or so, and how it allows Iran to continue funding terrorist organizations and develop its ballistic missile program.
"Much of the opposition from New York Jews"
While Maloney's decision to oppose the deal came a day after concerned residents protested in front of her office urging she announce her opposition, in a demonstration which was organized by Jewish groups that are fighting the deal, the false portrayal of her as "Jewish" would appear to be a telling sign of an anti-Semitic delegitimization tactic against critics of the deal.
PressTV was eager to portray such opposition to the deal as a matter of being Jewish in the article Friday, writing, "much of the opposition has come from New York, particularly from Jewish Democrats such as Senator Charles Schumer and Representative Eliot Engel."
Opposition to the deal has in fact come from around the US, with members of Congress in numerous states announcing their opposition.
While nearly all Jewish representatives in New York state have opposed the deal, there has even been one Jewish congressman who this week came out in support of it - Rep. Jerrold Nadler (D-NY), who was accused by the Jewish community of ignoring the interests of Israel, the Jewish state.
The attempt to portray Congressional opposition to the deal as "Jewish" belies the majority opinion supported by Senators and Representatives of all stripes who have come out against the deal, for a variety of arguments that defy being written off as mere partisan bias.
Congress is currently in a 60-day review period of the deal, after which it will vote on it. While a majority is already against the deal, a full 2/3 majority in both houses will be needed to thwart US President Barack Obama's promised veto of the widespread opposition.