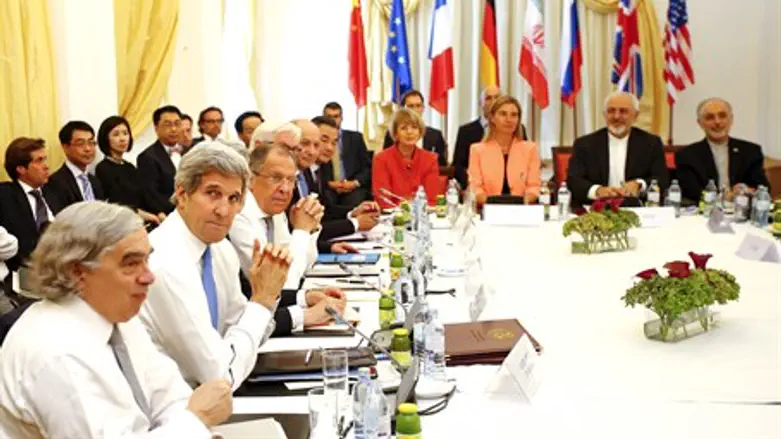 Iran nuclear talks in Vienna
Reuters
A senior American Treasury official will travel to Israel this week to discuss the nuclear deal reached between Iran and world powers with senior Israeli officials, the Treasury Department said on Thursday, according to the Reuters news agency.
Acting Under Secretary for Terrorism and Financial Intelligence Adam Szubin will travel to Israel from Friday through Monday, the Treasury said in a statement.
It will be his first visit to Israel since the nuclear deal was signed in July.
Israeli Prime Minister Binyamin Netanyahu opposes the accord reached between Iran and six world powers and has been vocal about his opposition to it.
Netanyahu says the deal does not do enough to curb Iran's nuclear program and will bring Tehran a windfall in sanctions relief that could help fund regional conflicts.
While in Israel, Szubin will discuss details of the nuclear deal and "emphasize the United States' commitment to increasing cooperation with Israel to combat Iran's support for terrorism and other destabilizing activity in the region," the Treasury said.
A Treasury spokesperson said Szubin will meet with Dore Gold, director-general of Israel's Foreign Ministry, National Security Adviser Yossi Cohen and Energy Minister Yuval Steinitz, among other officials.
Netanyahu and President Barack Obama have bantered back and forth about the agreement, with Obama recently singling out the Jewish state as the only country who opposed the agreement.
He also later hinted in an interview that Netanyahu's "interference" in U.S. affairs is "unprecedented".
Secretary of State John Kerry has also been particularly vocal of his disapproval of Netanyahu's criticism of the Iran deal. Recently, Kerry warned that Israel might be blamed if Congress blocks the accord with Iran, and that as a result Israel might "wind up being more isolated."
That statement came hours after Kerry warned Israel that a unilateral strike on Iran's covert nuclear program would be a "huge mistake."
Appearing on NBC, Kerry was asked if the Iran nuclear deal sealed last Tuesday would make it more likely that Israel will either physically strike Iran's nuclear facilities, or else launch a cyber attack against them.
"That'd be an enormous mistake, a huge mistake with grave consequences for Israel and for the region, and I don't think it's necessary," Kerry answered.
In response, an Israeli official told The New York Times on Saturday that Israel would continue to criticize the nuclear agreement with Iran and would not be pressured to stop voicing its objections.