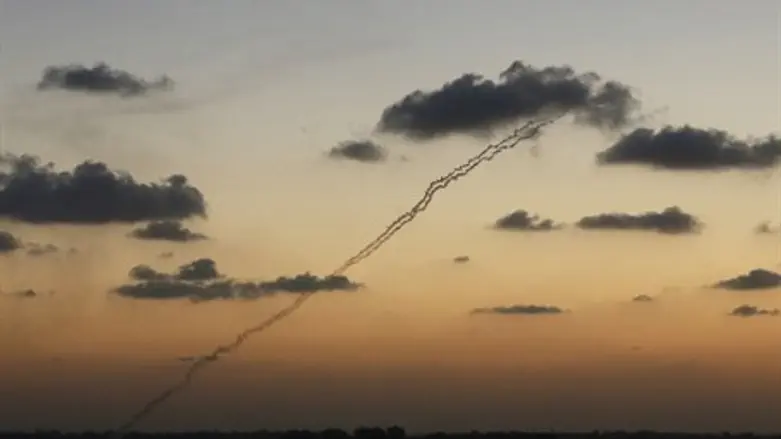 Rocket fire from Gaza
Flash 90
Following yet another rocket attack by Gaza terrorists against Israeli civilians, Gadi Yarkoni, head of the Eshkol Regional Council, said that the ongoing rocket fire is making residents of the Gaza front-line communities very upset. 
"This cannot go on," he stressed. "We cannot allow this rocket fire to turn into a regular event. The Defense Minister and the Prime Minister must decide how to respond in order to prevent escalation of the situation."
Despite a ceasefire which was agreed upon at the conclusion of last summer's Operation Protective Edge, terrorists continue to fire rockets at southern Israel on occasion.
One such rocket was fired early Thursday morning, exploding in an open area in the Eshkol region in the Gaza Belt, near the border fence. There were no reports of injuries or damages. Sirens did not sound in nearby communities.
In response, the Israel Air Force launched an airstrike against a weapons manufacturing site belonging to Hamas in central Gaza.
"The IDF holds the Hamas terrorist organization solely responsible for the goings on in the Gaza Strip," the IAF said in a statement.
The trauma of Operation Protective Edge – when Hamas fired thousands of rockets at Israel in a period of several weeks – continues to haunt residents, said Yarkoni.
"Each time a rocket is fired it brings back bad memories," he said. "The government has to do something to prevent rocket fire, as well as put into place obstacles that will prevent Hamas from digging tunnels into Israel and attacking us from them."