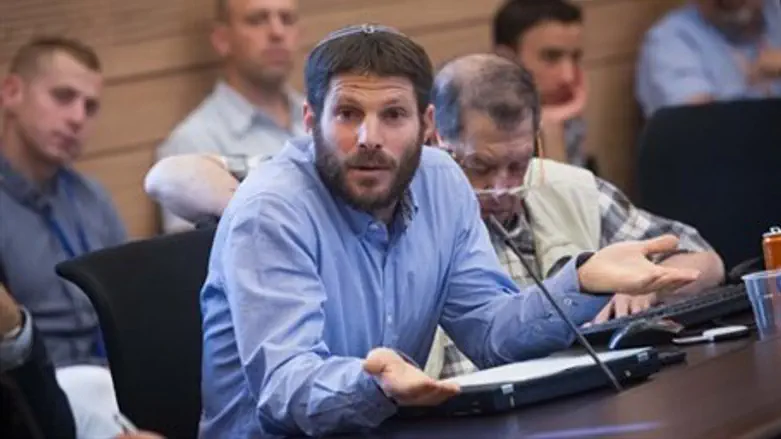 MK Smotrich
Miriam Alster/Flash 90
MK Bezalel Smotrich (Jewish Home) is pleased with the controversial appointment of Brig. Gen. (res.) Gal Hirsch to head the Israel Police. In an interview with Arutz Sheva, Smotrich said that the appointment of an "outsider" is shaking up the police – and that this is precisely what the police needs.
Even is several top police officers resign in anger following the appointment, he estimated, this could work out for the better, since the police needs a thorough rebooting.
Smotrich explained that he does not know Hirsch and is too young to remember Hirsch's possible failings in the Second Lebanon War. He listed two major reasons for supporting the appointment, however – his trust in the abilities of the minister who appointed him, Internal Security Minster Gilad Erdan, and the the "panic" that the appointment is causing.
Smotrich said that Erdan is an intelligent minister who does not rush to decide matters before learning the subject matter. He said that Erdan first conducted in-depth research on the police, and the reasons for its failings, and then looked for the man whose characteristics and experience could provide a solution to these problems.
"I call on our public to support this appointment," he said, using a formulation that references the religious Zionist sector.
He added that "hysteria" being reported among senior police officers is another sign that Hirsch is the right man for the job.
"The Israel Police requires a shakeup," he explained. "Not a small cosmetic treatement. There are matters of organizational culture, output and service to the citizen."
"In a normal reality, it is good for a commander to come up from inside [police ranks]," the rookie MK added, "but in certain situations it is correct to bring in someone from outside. I am certain that he will succeed with the backing he will receive from the minister, from us as a political echelon and from the public."
Smotrich said he could understand the feelings of bereaved families that oppose Hirsch's appointment – because they blame him for their sons' deaths in the mismanaged Second Lebanon War. People in this situation feel great pain and have an understandable need to point a finger of blame at someone, he said – and they must not be judged. However, he added, "that is not how you run a country."