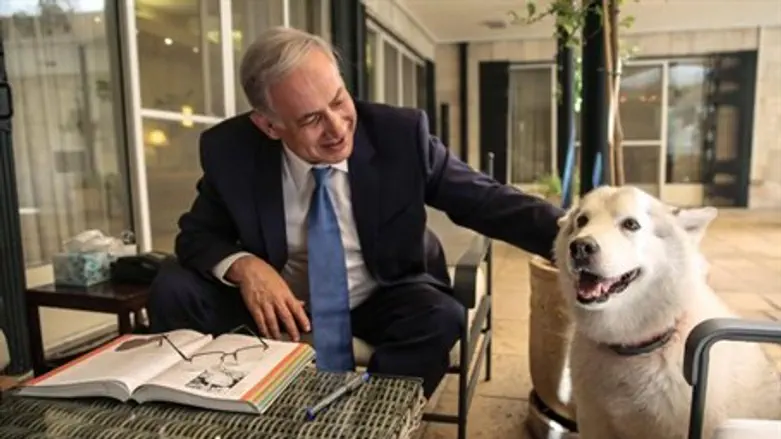 Netanyahu and Kaiya
Facebook
Igal Sarna, a leading writer in Yediot Aharonot, is known for his extremely harsh anti-Netanyahu invective, but he may have outdone himself in a Facebook post Monday.
In the post, Sarna features a photo of Netanyahu and his dog, Kaiya, shortly after the prime minister posted the photo to his Facebook page.
"How much light Kaiya has brought into our home! If you are thinking of getting a canine, find an adult dog to rescue. You won't regret it," wrote Netanyahu.
"God, I mean, you are the son of a historian," barked Sarna. "Did you not see, at home, when a dictator posed with a German Shepherd dog? No photographic memory? Smile like that for the refugees. Smile like that for the middle class that you are killing. Smile like that for the people who voted for you. (And how much did you sweat with the photographer for that relaxed air? The book. The pen. The glasses. The hair. And the dog, who would rather look at the photographer in the end)."
Just before the last election, Sarna published a tweet aimed at nationalists in which he said: "When you have a Bennett Square, you can hold mass rallies there against the Left's incitement. But in Rabin Square? Scum."
Sarna's tweet referenced the fact that Yitzhak Rabin was murdered next to the square in Tel Aviv, which was then named after him.
In response, Jewish Home Chairman Naftali Bennett wrote: "Yigal Sarna, from the Buji-Tzipi [Yitzhak Herzog and Tzipi Livni – ed.] camp: so now you are recommending that I be murdered? The nation of Israel will answer you with the [Jewish Home's] letters Tet-Bet in the ballot box."
A short time later, Sarna reportedly removed the post and wrote bitterly: "Correction and clarification: after the death of Yitzhak Rabin from complications of pneumonia that followed an appearance on a very cold evening, the square's name was changed from Malchei Yisrael Square to Rabin Square."
Before the elections, Sarna blamed Bennett for the deaths of 102 civilians in Lebanon, in the 1990s. Bennett's security detail was expanded after the publication, which was later discredited by officers and soldiers who served in Lebanon at the time of the event described.
Netanyahu received over 40,000 "likes" for his post.