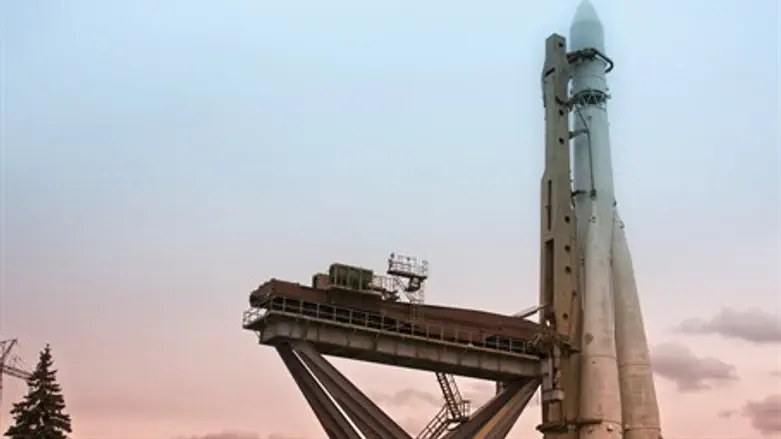 ICBM (illustration)
Thinkstock
Iran unveiled on Saturday its new Fateh 313 surface-to-surface missile with a 500 kilometer (300 mile) range, as well as its massive 27-meter tall Simorgh satellite launcher, which one expert says may pave its way to intercontinental ballistic missiles (ICBMs).
Tal Inbar, Head of the Fisher Institute for Air & Space Strategic Studies' Space Research Center, told Arutz Sheva on Saturday night that an analysis of the pictures of the new launcher reveals a great likeness to North Korea's satellite launcher technology.
"This rocket will allow Iran to launch satellites double the weight it is currently able to, and additionally it will bring it closer to expertise in the needed technologies for developing especially long-ranged ballistic missiles up to intercontinental ranges," said Inbar.
The expert appraised that Iran's unveiling of the Fateh 313 is meant to be a message to its rivals in the Persian Gulf such as Saudi Arabia, and also a warning to Israel that it may transfer the advanced new missiles to its terror proxy Hezbollah in Lebanon.
"It also has an element of protest against the fixed members of the UN Security Council, as during the negotiations with Iran on its nuclear program Iran stated that its missile program isn't up for discussion."
Iran's state-run PressTV reported on the new Fateh 313's unveiling, with pictures of the new rocket shown in the video report.
Iran has stated it will flout the UN Security Council resolution that adopted the nuclear deal, in which Iran is required not to test long-range ballistic missiles that can be used to carry a nuclear payload. The Islamic regime has made clear it intends to hold such tests regardless.
Regarding the satellite launcher, Inbar said it strengthens the known military cooperation between North Korea and Iran.
But beyond that, he noted that by deepening its heavy rocketry technology for outer space, it is developing the means "to contribute to assault rocketry of the longest range."
As noted Iran intends to continue testing its domestic long-range ballistic missiles, which according to international reports are nuclear capable, particularly the Shahab 3 and Sejjil 2.