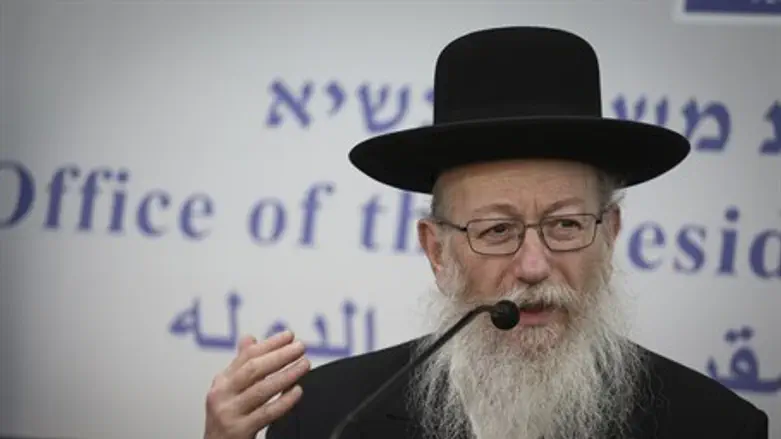 UTJ MK Yaakov Litzman
Hadas Parush/Flash 90
Israel's Deputy Health Minister has condemned a top doctor for calling on colleagues to refuse to comply with a government law calling for the force-feeding of hunger-striking terror suspects.
For at least 63 days,  Islamic Jihad member Mohammed Allan has been on a hunger strike protesting his administrative detention for his affiliation with the terrorist group.
Israel's administrative detention policy allows for the imprisonment of a suspect without trial if they are deemed a security threat. The Israeli government and the Israel Medical Association have been at odds with one another on the issue of force-feeding Mohammed Allan, who is currently in critical condition after a 65-day hunger strike.
Allan ended his hunger strike after the Israeli Supreme Court controversially suspended the administrative order against him, but the recently-passed law is still being hotly debated.
In an interview with Israel Radio, Israel Medical Association chairman Dr. Leonid Eidelman argued that while the law permits force-feeding of detainees, it does not compel doctors to comply.
"The law does not require a doctor to do anything," Eidelman argued. "At the end of the day this decision must be made on the basis of medical ethics, and since this case is clear cut, it is forbidden to comply with such a directive."
Dr. Eidelman was strongly criticized by Ministers in Israel's government. In an interview last night on Channel 20, Deputy Health Minister Yaakov Litzman attacked him for arguing that it was forbidden for doctors to comply with the law of force-feeding prisoners.

"It is an injustice and crime," MK Litzman stated. "Imagine if I'd say to not pay income tax. They would all attack me."
"It might not really be a criminal," he said of Eidelman's comments, "but when he intervenes and gives such an order, it can indirectly cause the killing of a prisoner. That is just a crime."
Minister of Public Security Gilad Erdan went as far as to hold Dr. Eidelman at least partially responsible for the Supreme Court's decision yesterday to suspend Allan's status as an administrative detainee.
"The decision on the release of the terrorist Allaan was mainly driven first and foremost by the stance of the Israel Medical Association, led by Dr. Eidelman, not to treat hunger striking terrorists until they have lost consciousness or there is a fear of irreversible damage," Erdan wrote. "It is time the Israel Medical Association and its leader respect the law instead of taking actions that eventually lead to the release of terrorists."