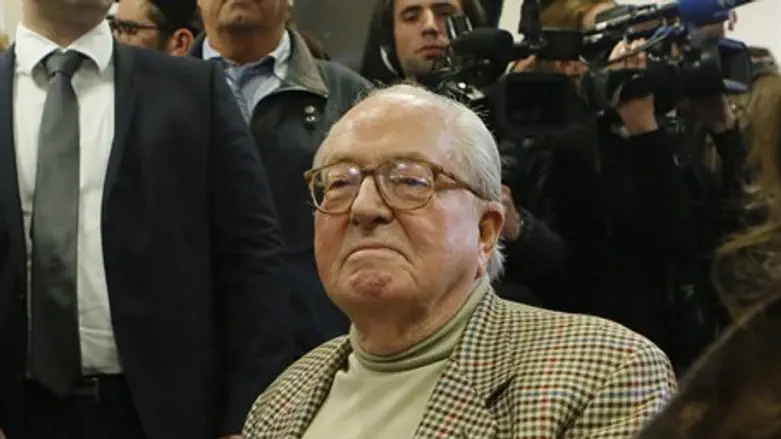 Jean-Marie Le Pen
Reuters
The bitter family feud tearing apart France's far-right National Front (FN) will resume Thursday, AFP reports, with its executive board ruling on whether to boot out party founder Jean-Marie Le Pen.
The 87-year-old has been an increasingly irritating thorn in the side of his daughter, Marine Le Pen, who took over the party from him in 2011 and has tried to steer it away from the overt racism and anti-Semitism of its past.
The final straw came in April when the elder Le Pen rehashed familiar comments about Nazi gas chambers being a "detail" of history and said France should get along with Russia to save the "white world."
Marine Le Pen suspended him from the party, but the aging provocateur has shown little interest in going quietly, successfully challenging his suspension in court and barging onto the stage during a FN rally in May.
The spat has rumbled on, with Marine organizing a postal ballot of FN members last month in which 94 percent said they wanted her father stripped of his title as honorary president.
The octogenarian firebrand urged members to abstain from voting and scored another legal victory when a court ruled that the ballot violated internal party rules.
"As things stand, I won't vote for Marine in 2017," he told a local newspaper on Sunday, referring to the next presidential election.

'Parasite' on the party

Unlike his last disciplinary hearing in May, Le Pen has said he will show up at the party headquarters in Nanterre outside Paris on Thursday, though "only to administer a lesson, not to receive one."
Marine Le Pen and her deputy, Florian Philippot, have said they will stay away from the meeting of the party's executive committee to ensure "total impartiality."
Her father "wants to organize a circus in front of the media, there is no way Marine Le Pen is going to help him," said a source close to the leader.
The FN had been on something of a roll, having scored unprecedented election results in the past two years, notably coming first in European polls in 2014.
A struggling economy and growing distaste for mainstream politics has helped the party, with Marine Le Pen skillfully repackaging the party's traditional dislike of outsiders and minorities as an opposition to the EU and defense of secularism.
Jean-Marie Le Pen has been an awkward reminder of the party's roots - a "parasite" on the party, in the words of Philippot - when it should be focusing on regional elections in December.
The man who founded the FN in 1972 can still count on support from a die-hard rump within the party, who hope a truce might still be forged by his young niece, Marion Marechal-Le Pen.
Until recently she was considered closer to Jean-Marie than Marine, but she has expressed her shame over the recent spectacle.
In a newspaper column this week, the FN patriarch said: "One thing is certain... the political line that I have represented for decades will not disappear from the national scene."
AFP contributed to this report.