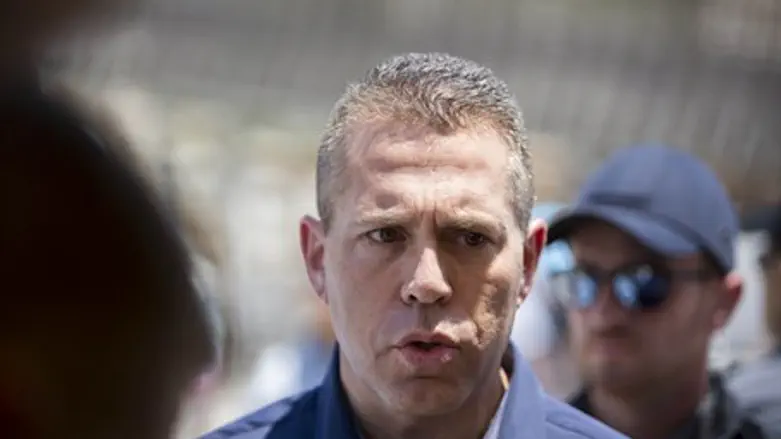 Gilad Erdan
Yonatan Sindel/Flash 90
Internal Security Minister Gilad Erdan (Likud) on Wednesday night strongly condemned the Supreme Court's ruling in favor of the jailed Islamic Jihad terrorist Mohammed Allan, who has been conducting a hunger strike for over 60 days.
Despite just 15 days ago rejecting a petition to end the terrorist's administrative detention, the court on Wednesday ended the detention, allowing for his immediate release if his hunger strike has caused irreversible brain damage according to surprising conditions set by the state - or in any case apparently setting his release for November in the event he recovers completely.
"The decision to release the terrorist Allan stems first of all from the position of the (Israeli) Medical Association, led by Dr. (Leonid) Eidelman, not to treat hunger strikers until they lose consciousness and until there are concerns of irreversible damage," said Erdan.
"Throughout his (Allan's) hospitalization, Dr. Eidelman demanded from the doctors and threatened them not to act according to the law on rights of the sick, despite the decision of the hospitals' ethics committee," he said, noting on the refusal to implement the newly passed forced feeding law for hunger striking terrorists.
"The time has come for the Medical Association and its leader to honor the law instead of taking steps that in the end lead to the release of terrorists."
After the state announced on Wednesday it would release Allan if he suffered irreversible brain damage, Erdan slammed the decision.
"His release will be a prize for the hunger strike he initiated and could cause a wave of mass hunger strikes among security prisoners, after they discover a new tool by means of which they can blackmail the state of Israel," said Erdan. "One fights terrorism with determination and one does not seek compromises."
"The court submitted to extortion"
Culture Minister Miri Regev (Likud) also condemned the decision to free Allan, criticizing the Supreme Court for the move.
"The Supreme Court submitted to the terrorist Mohammed Allan's extortion instead of implementing the force feeding law," Regev said. "Thousands of terrorists have their eyes on Mohammed Allan. Allan is like a suicide bomber ready to die for the freedom of his murderous friends."
"Allan invented a new method of suicide on the altar of values of the justice and humanity system of Israel," she added.
"The decision of Supreme Court judges opens a dangerous path essentially allowing the release of hundreds of prisoners who will rise up and follow his (Allan's) way to the long-awaited release. The question is not whether or not he is dangerous, but how serious are the actions and intentions of a terrorist, and most important of course are the consequences (of his release)."