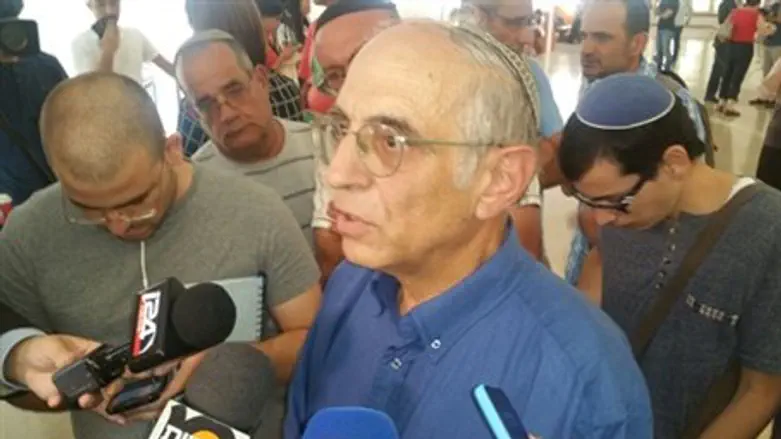 Dr. Aryeh Bachrach
Hezki Ezra
Dr. Aryeh Bachrach, Head of the Bereaved Parents' Forum in the Almagor Terror Victims' group, attended the court hearing Wednesday in the matter of hunger striking terrorist Mohammed Allan. Bachrach demanded that the court refrain from giving in to Allan's demands, to be released.
"I came here to protest the direction [in which] the court's decision [is going] – to free the terrorist," he said. He warned that such a decision would turn Israel from a country that is ruled by law, to "a mockery."
"This man brought himself to the medical situation he is in and, in accordance with the right of a person to his dignity and freedom, he should be left alone to die quietly," Bachrach said. "There is no need to intervene, and certainly not to free him."
Dr. Bachrach, whose son, Ohad, was shot and murdered by terrorists in Nahal Prat (Wadi Kelt) in 1995, warned that a decision to free the terrorist would be tantamount to murdering "many people who will pay with their lives for his release."
"With all of the terrorist's prestige, he has caused the state to bend," Bachrach charged. The idea of releasing Allan abroad solves nothing, he said. "We have seen terrorists operating from abroad, and they can plan terror attacks from abroad as well."
Internal Security Minister Gilad Erdan (Likud) said Wednesday that he opposes the official offer made by the State Attorney's Office to hunger striking terrorist Mohammed Allan, to release him in November.
"His release will be a prize for the hunger strike he initiated and could cause a wave of mass hunger strikes among security prisoners, after they discover a new tool by means of which they can blackmail the state of Israel," Erdan said.
"One fights terrorism with determination and one does not seek compromises," he added.