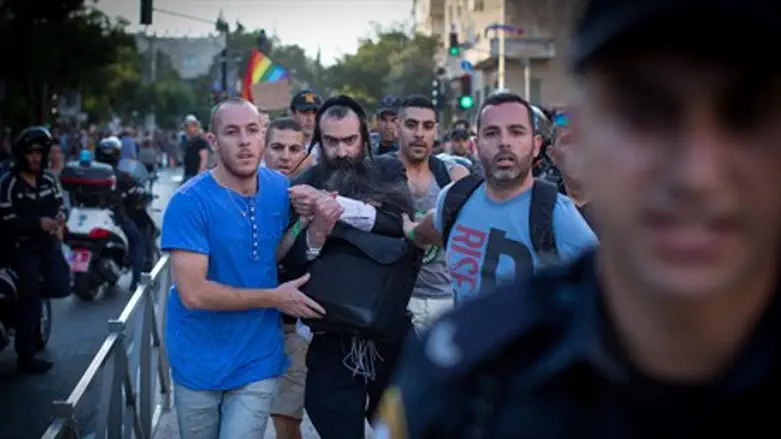 Police arrest gay parade attacker Yishai Shlissel
Flash 90
Findings from the commission set up to examine police failures at the Gay Pride Parade in Jerusalem last month indicate that Jerusalem District Police, who were responsible for security at the event, were unaware Yishai Shlissel had been released from prison. 
Shlissel, who served 10 years for a near-identical attack in 2005, was released just weeks before he went on a stabbing spree at the parade in July, killing Shira Banki and wounding four others. 
Prior to the parade, the Jerusalem District turned to the Israel Police's Intelligence Division to review six individuals who might prove problematic, Walla! News reported Wednesday. 
Shlissel was included on the list, but the Intelligence Division only returned information on the five other potential assailants, leaving Jerusalem District Police unaware that the perpetrator of the 2005 attack on the parade had been released from prison. 
After his release, the Israel Prison Service informed the Binyamin precinct. However, the information apparently fell through the cracks and was never received by the Jerusalem District. 
Only after Walla! published an article on Shlissel's release did a senior officer in Jerusalem order immediate surveillance. Police were unable, however, to locate him in time. 
The commission attributed much of the blame for police's failure to Merhav Moriah commander, Kobi Davidson, and is expected to recommend his dismissal.