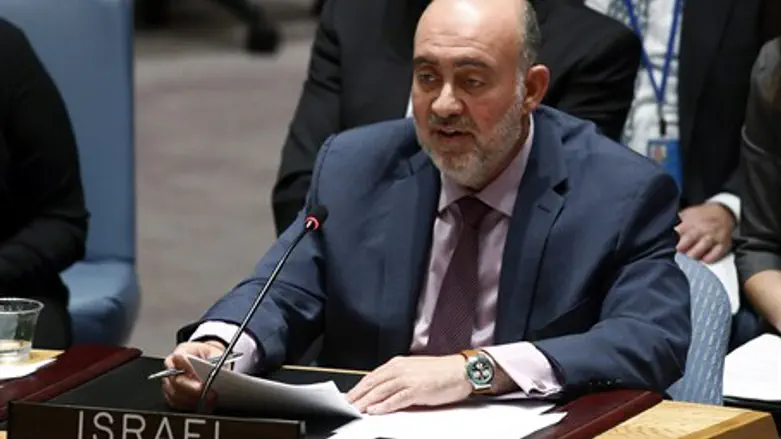 Israel's Ambassador to the United Nations Ron Prosor
Reuters
Israel's Ambassador to the UN Ron Prosor met this week with Carmen Lapointe, UN Under-Secretary-General for Internal Oversight Services, and submitted a demand for an investigation into the behavior of Rima Khalaf, Executive Secretary of the Economic and Social Commission for Western Asia (ESCWA).
Prosor demanded that Khalaf be placed before a disciplinary court, according to a report Monday on Army Radio.
The issues with Khalaf are not new. Last year, Prosor asked UN Secretary-General Ban Ki-Moon to fire Khalaf, after she indirectly compared Israel with Nazi Germany, and blamed Israel for all of the Arab world's problems in the area of development.
Ban spoke with Khalaf about the matter but did not fire her.
Several weeks ago, Khalaf again made provocative statements against Israel.
She expressed support for the hostile "flotilla" that sought to breach Israel's maritime blockade on Gaza in June, and said the move was legitimate. She compared the Israeli response to an act of terror, saying: "The Israeli response to the flotilla is like the violent abductions carried out by pirates at sea, in the air and on land, which the world does not hesitate to call terror."
At another event, which took place at the UN HQ in New York, she said that "terror activities" constitute "a war for justice."
"In Palestine," she said in the July speech, "international indifference not only allowed the Israeli occupation to keep on grinding for half a century, but spread instability in the region. This eroded the faith in global justice and pushed some people to take justice into their own hands."
In a document he handed to Lapointe, Prosor wrote: "Khalaf's pronouncements are seeped with anti-Semitism, and it is unacceptable that words like these be said by a senior UN figure and under UN sponsorship."
"We will not remain silent when senior figures in the organization, who are supposed to give a personal example, lead phenomena like these instead of condemning them," he added.
Army Radio added that the Israeli demand will be examined in the coming days, and that the UN's Internal Oversight Services will decide how to respond in a matter of weeks.