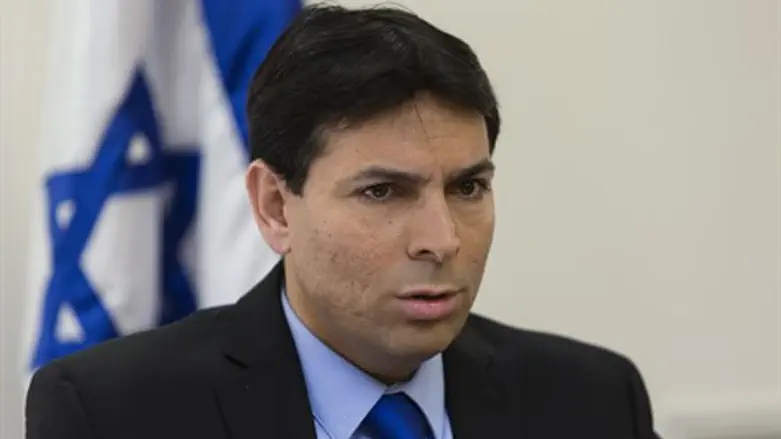 Science, Technology and Space Minister Danny Danon
Flash 90
Science and Space Minister Danny Danon will replace Ron Prosor as Israel's UN Ambassador, according to Channel 2 reporter Amit Segal.
If the report is true, Danon will resign from the Knesset, allowing in Sharren Haskel, who was number 31 on Likud's Knesset list in the last elections.
In a Ynet interview in June, Haskel was depicted as a "moderate" who could easily fit into a leftist party – whose top political issues include animal rights and the environment, and who believes in coexistence with Israel's Arabs and "understanding" them as a top priority.
"Okay, I understand that you are trying to be politically correct, but it cannot be possible that you are not awaiting the moment that will enable you to become a Knesset Member," the interviewer asked Haskel.
"I am waiting patiently and I am excited. I am already ready for the difficult work that will stand before me if I enter," she replied.
Danon, 44, is also Chairman of the Likud's Central Committee. 
The Zionist Union's MK Tzipi Livni reacted badly to the news of Danon's appointment. "Netanyahu is abandoning Israel in the difficult diplomatic battle in the international arena, and preferring his personal interest inside the Likud Central Committee over Israel's security interests."
The Zionist Union's response began with a jab at Danon's present job as Science and Space Minister, for which he was mocked by many snobbish leftists as being intellectually unfit.
"Houston, we have a problem," read the party's statement. "The appointment of the Space Minister as UN Ambassador is another nail that Bibi is hammering into the coffin of Israel's foreign relations. The prime minister is behaving like a low-tier Likud functionary who arranges jobs for people, and not as a leader who has Israel's interests as his top priority."
The accepted political wisdom among pundits is that Netanyahu wanted to appoint Danon to the UN as a way of removing him from the internal Likud political arena for several years. Danon was making Netanyahu's life miserable in power struggles within the Likud Central Committee and Secretariat.
The Minister for Social Equality, Gila Gamliel (Likud), congratulated Danon on the appointment. "In these days, as the international challenges Israel faces become increasingly difficult, there is no need to elaborate on the importance and sensitivity of the role of UN Ambassador. I have no doubt that Danny is the right man in the right place and his success will be our success."
Fired from Defense Ministry
Danon spoke to Arutz Sheva last year ahead of the Jewish New Year (Rosh Hashana), and slammed the leadership of his party - primarily Prime Minister Binyamin Netanyahu - for stifling criticism.
Netanyahu fired Danon from his role as Deputy Defense Minister in July during Operation Protective Edge, after Danon criticized Netanyahu's decision to accept a ceasefire with the Hamas terror group. Danon later noted the July 15 ceasefire would have left Hamas's lethal terror tunnel network undiscovered and entirely intact.
According to Danon, Netanyahu's policy of not allowing free expression and criticism are what led Likud ministers Gideon Sa'ar and Moshe Kahlon to leave the party.