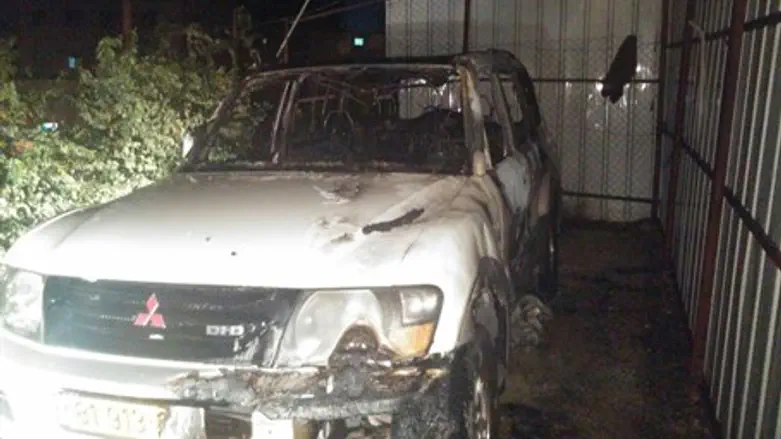 Burned-out vehicle
'United Jerusalem' Facebook
Arab terrorists threw a firebomb at the Nof Shmuel Jewish building in the Arab neighborhood of Beit Hanina in Jerusalem overnight Thursday/Friday.
Miraculously, while the occupants of Nof Shmuel were sleeping inside their home as it was being firebombed, no one was injured. One of their vehicles was badly damaged, however. 
This is the latest in a series of incidents in northern Jerusalem, which has seen a rise in terror against Jews. 
On Wednesday, three Jews were beaten brutally by dozens of Arabs near Atarot, after one Arab driver's road rage snowballed into a lynch mob.
Within minutes, police arrived; they had apparently been alerted to the sequence of events by another driver. The Arabs fled the scene before they could be apprehended, in the direction of Qalandiya, an Arab village just west of the boundary line of Jerusalem in the direction of Ramallah.
"If it had happened a few hundred meters closer toward Qalandiya, they [the Jews] would not have come out of the attack alive," a bystander told Arutz Sheva. 
Earlier this month, a firebombing attack near Beit Hanina seriously injured 27 year-old Inbal Azraq, leaving her with second- and third-degree burns on more than 25% of her body. Azraq's husband managed to escape the burning car, but the vehicle itself was decimated.