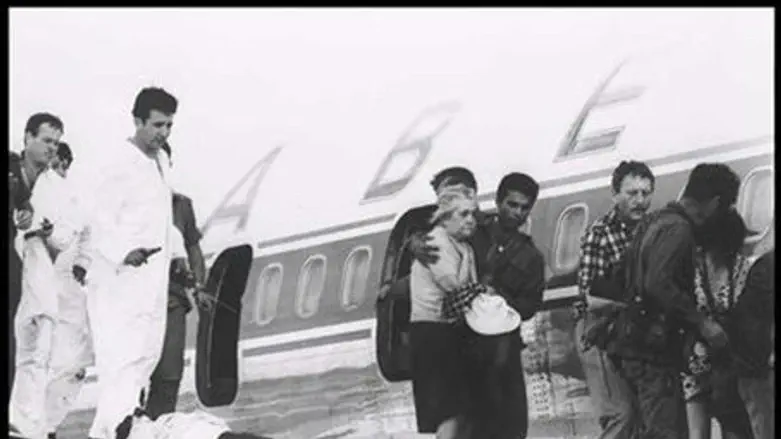 Sabena rescue
Government photo
Forty three years after the event, a film on the successful IDF raid and rescue of a hijacked airplane is spurring strong emotions among former soldiers – including three former Prime Ministers – who were there. 
Israelis born long after the 90 passengers and crew on Sabena flight 571 were rescued after four terrorists took over the plane and landed at Lod (later Ben Gurion) Airport, have also been affected by the upcoming film. 
​
Commenting on the movie, Uzi Dayan, former Sayerert Matkal commando and IDF Central Command head, said that the message in 1972 was the same today.
"Even if the methods are different today, the message remains the same – terrorism doesn't pay, and we will not allow it to pay."
​According to Dayan, the objective of the operation was to remove from the terrorists "the keys to the resolution of the issue. Today things are more complicated, but essentially similar, we are in a regional war of terrorism. The methods of fighting may be different but the spirit is the same."
However, his views were not shared by everyone, including two individuals involved in the film – one of the featured actors, as well as its creator, both of whom said that the film's message did not involve "fighting terror."
George Skander, who portrays terrorist Ali Taha – one of the hijackers – in the film, took a different message from Sabena.
"They were not terrorists, but fighters, people who fought for their principles," he said. "I am not against peace and I am not in favor of such things, but I see these things differently. Instead of 'terrorists' I call them 'fighters.'"
Speaking to Arutz Sheva, Nati Dinar, the film's creator, said that the message of the movie was that each side needed to lay down its weapons. "
Violence just begets violence," he said. "This is how it started 40 years ago. Still today they shoot and we shoot. Have we made any progress?"
Arutz Sheva sought to get comments from Culture and Sport Minister Miri Regev regarding the comments of Skander and Dinar, but has not yet received a response from her.