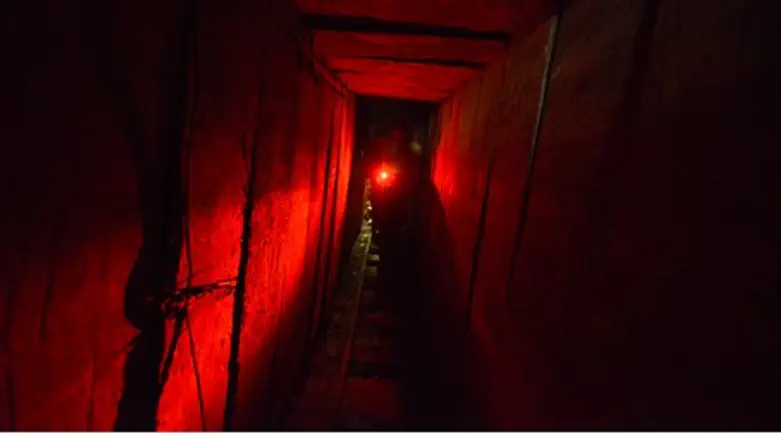 Gaza terror tunnel
IDF Spokesperson
Military sources confirmed for the first time on Tuesday that the defense establishment has information that Hamas has been digging new terrorist tunnels to replace the ones destroyed by Israel during Operation Protective Edge last summer.
Channel 10 News reported that Hamas terrorists have in recent months completed the digging of the tunnels that reach into Israeli territory, and may use them in a future military confrontation with Israel.
According to the report, the IDF holding off on destroying the new tunnels due to the feeling that Hamas is not interested in another round of fighting with Israel.
The report came hours after it was cleared for publication that a Hamas terrorist responsible for terror tunnel digging was arrested via a joint operation of the Israel Security Agency (Shin Bet) and the Israel Police in early July. 
During interrogation, 21 year-old Rafah native Ibrahim Adel Shehadeh Shaer revealed a considerable amount of information to the ISA about Hamas's activities in Rafah, particularly about its terror tunnel network. Among the exposés: that Hamas is digging a tunnel from Rafah toward the Kerem Shalom crossing into Israel. 
He also revealed the location of the excavation centers, tunnels, and shafts, and gave information about the people digging them. He also said that the new road that was paved by Hamas near Gaza border is to be used in order to stage a surprise attack against Israel, in which vehicles will race toward the border with Israel.
As part of his activities in Hamas, Shaer personally underwent a variety of training programs for combat, command, using advanced weapons and explosives.
The IDF a few months ago promised toinvestigate Hamas reconstruction of attack tunnels, after months of reports showing how the terrorist organization has been siphoning from the massive influx of construction materials to rebuild the tunnels leading in to Israel.
Reportedly over 1,000 diggers as well as heavy machinery are being employed by Hamas to construct the tunnels; the Israeli security estimation is that the tunnels lead up to Israeli territory, and Hamas will extend them beyond when it feels the time is right to strike.