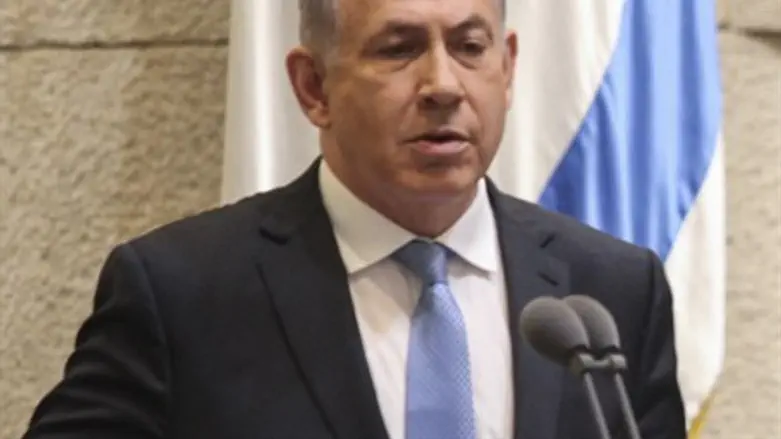 Prime Minister Binyamin Netanyahu
Yitzhak Harari/Flash 90
A petition calling for the arrest of Prime Minister Binyamin Netanyahu during an upcoming visit to London has garnered more than 34,000 signatures, but the British Embassy in Israel said on Tuesday there is no chance that will happen.
The petition, which appears on the website of the British Parliament, notes that Netanyahu is due to visit London in September and adds, "Under international law he should be arrested for war crimes upon arrival in the U.K for the massacre of over 2000 civilians in 2014".
As of Tuesday evening, the petition was signed by 34,966 people out of the 100,000 its organizers are hoping to achieve.
Under British law, the government must respond to all petitions that get more than 10,000 signatures. At 100,000 signatures, the petition could be be considered for debate in Parliament.
A spokesman for the British Embassy in Israel told Arutz Sheva on Tuesday evening, "According to British law, foreign heads of state enjoy immunity from the legal process, and cannot be arrested or detained."
The Israeli Foreign Ministry made it clear tonight that they believe "this is a PR exercise with no practical significance."
"The bilateral relations between Britain and Israel are closer than ever, as evidenced by data on mutual trade which has doubled in recent years, along with fruitful academic, cultural and scientific bilateral cooperation," said the Foreign Ministry.
It should be noted that in Britain, anyone can initiate a petition of this nature on the website of the Parliament. Among the petitions one can find on the site is one calling for the legalization of drugs, which has already garnered 200,000 signatures.