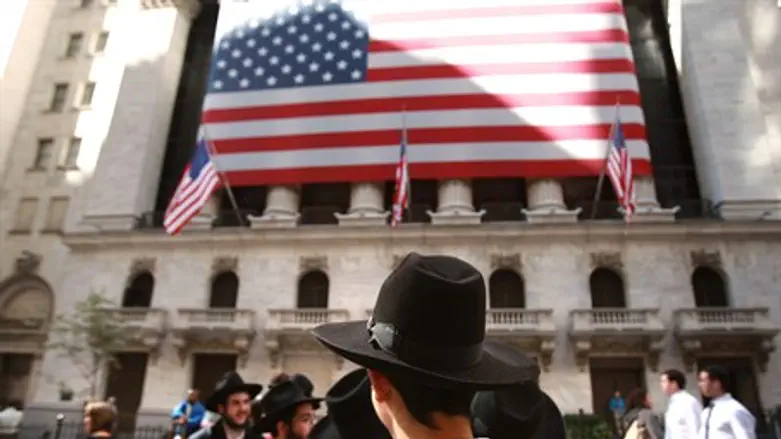 Only 14% of American Jews are Orthodox
Thinkstock
A poll by McKeon & Associates reveals that American Jews oppose PresidentBarack Obama's nuclear agreement with Iran by a margin of more than 2 to 1. That is, 45% of registered Jewish voters said straight out that they oppose the deal, while only 22% said they favor it.
The poll was conducted on July 29-30. 
Around the same time, a Quinnipiac University survey  showed that a similar margin of Americans oppose the deal – but whereas only 45% of Jews expressed their opposition straight out, a full 58% of Americans said the same. 
The latest poll shows that pluralities of Jews of all political inclinations oppose the agreement reached with Iran. Among Democratic Jewish voters the margin was only 40% to 38%, but among Independents it was 44-24, among 
Republicans an overwhelming 51-4%, and among Libertarians it was nearly unanimous: 71% opposed, 4% in favor.
It was also announced Monday that B'nai B'rith International had come out against the Iran deal, urging Congress to reject it. "It is impossible to look at Iran's track record," the organization announced, "and trust the regime to adhere to the terms of this pact. The JCPOA [Joint Comprehensive Plan of Action, the official name of the Iran deal] requires an unprecedented suspension of disbelief that Iran has only peaceful intentions for its nuclear program." 
The Zionist Organization of America, which has been in the forefront of efforts to collapse the deal, publicized the latest poll. It "reflects the disquiet, indeed, alarm, at this nuclear deal," said ZOA National Chairman of the Board Dr. Michael Goldblatt, "as more and more information as to its contents have come to hand."
"The ZOA warned on the day the deal was signed," Goldblatt added, "that  every substantive assurance previously given by President Obama regarding stopping Iran from becoming a nuclear weapons state had been discarded in favor of an agreement that actually gives Iran a pathway to nuclear weapons in about ten years. The American Jewish public, like the broader American public, is finding that, the more it understands and learns about this deal, the more alarmed and opposed it becomes."