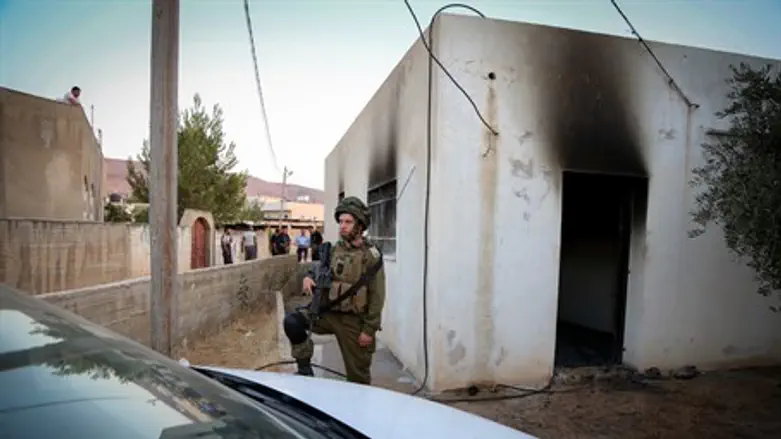 Site of Duma arson attack
Credit: Flash 90
The Dawabshe family, the Palestinian Arab family in which an infant and his father were killed from an arson attack, will not be eligible for compensation by the state, Haaretz reports Tuesday. 
Only Israeli citizens are eligible to be compensated and receive state assistance for terror attacks, and none of the surviving family members have Israeli citizenship. 
The left-leaning Haaretz notes that the law has applied to Arab victims of Jewish terror attacks since 2006, and protests that even "settlers" living behind 1949 Armistice lines receive compensation and recognition. 
The Dawabshe family, however, will need to apply externally for compensation, through a coordinating committee which works with the Palestinian Authority (PA). 
MK Dr. Yousef Jabarin (Joint List) requested from Attorney General Yehuda Weinstein last week to apply the legal arrangements applied to Israeli victims of Palestinian terrorism to the Dawabshe family in particular, and to PA residents who are victims of "Jewish terror" in general.
"The case of the Dawabshe family highlights the absurdity that exists today regarding legal and political arrangements relating to the issue of compensation," Jabarin wrote. "While legal arrangements in Israel ensure the granting of compensation to persons and property after casualties from actions taken by the Palestinians, the Palestinian casualties of the operations performed by the Jews are not entitled to any compensation."
"In practice, this situation leaves the Dawabshe family without any compensation," he argued, adding that it was "unacceptable" and "discriminates between blood and blood." 
"Casualties on the basis of nationalistic actions should be entitled to compensation from the state, no matter whether they are Jews or Arabs."
Dan Yakir, legal adviser of the Association for Civil Rights in Israel (ACRI), condemned the distinction between citizenry and non-citizenry as an "intolerable" double standard.
"There is a moral duty and obligation under international law to also maintain order and security in the region [Judea and Samaria - here including the Palestinian Authority - ed.] and to ensure the life and safety of the Palestinians who should enjoy increased protection under international law." 
The Attorney General's Office responded Tuesday that "MK Jabarin's appeal was accepted and will be answered in the usual manner."