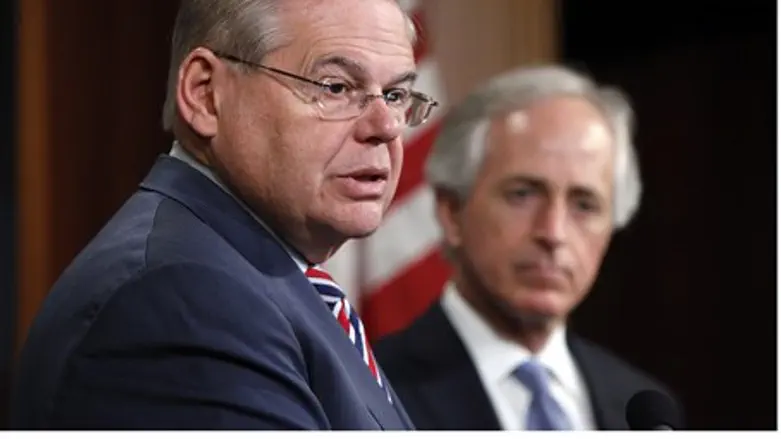 Senators Robert Menendez, Bob Corker
Reuters
Senior members of the Senate Foreign Relations Committee on Thursday warned they may subpoena all documents used in the US State Department's annual human trafficking report, after arguing the submitted report was politicized and ignored egregious abuses.
In discussing the Trafficking in Persons (TIP) report, Senator Bob Corker (R-TN), who chairs the committee, said it will seek department emails, letters and memos to track down what he called the politicization of the report, according to Washington Free Beacon.
"If that is not forthcoming immediately, my sense is the committee would take the very unusual step of subpoenaing that information," warned Corker.
Leading officials at the State Department overruled the department's own trafficking experts regarding the rankings of 14 countries' efforts to fight the slave trade, reports Reuters. In particular China, Cuba and Malaysia apparently were given higher scores than analysts assessed for their status in terms of slave labor and prostitution.
Senator Robert Menendez (D-NJ) directly challenged State Department officials in the meeting, warning, "if there was an inspector general investigation, or some other investigation, would your answers hold up in emails, memos, letters and all other communications?"
"Heartless"
He brought up the case of Malaysia, which was moved from the worst rank - Tier 3 - to Tier 2, despite ongoing cases illustrating human trafficking and rights abuses.
It is suspected the nod to Malaysia may have been given to get around Menendez's amendment to the Trans-Pacific Partnership (TPP) trade agreement "fast-track" bill, in which he prohibited Tier 3 countries from being included in the deal. The bill lets US President Barack Obama get a simple up-or-down vote on TPP in Congress.
But Sarah Sewall, under secretary of state for civilian security, democracy, and human rights, brushed aside Menendez's concerns, claiming US Secretary of State John Kerry "signed off on the tier ranking of Malaysia because of his belief that Malaysia has taken the steps to change."
Menendez also addressed Cuba, which similarly was advanced to Tier 2 despite "no progress" on ending forced labor, and reports of "the Cuban government keeping over 70% of the wages provided to them by the World Health Organization."
"The 2015 TIP report also states that Cuba is a source country for adults and children, some as young as four years old, subjected to sex trafficking," he noted.
Sewall brushed off the concerns regarding Cuba as well, claiming that rapprochement with the regime allowed more information about trafficking in the country.
Corker fired back, saying, "this is possibly the most heartless, lacking of substance, presentation I have ever seen about a serious topic. I don't see how anybody could believe that there was integrity in this process."
Echoing him, Menendez said the report "has been politicized in a way that is not justifiable."