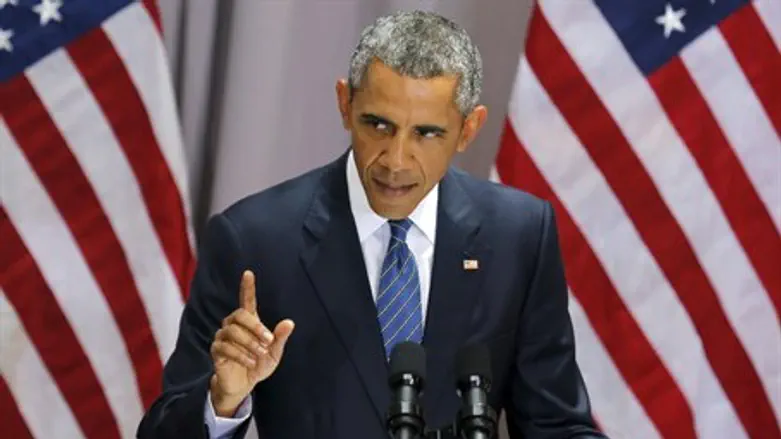 President Barack Obama
Reuters
A top Israeli official has released an official response to US President Barack Obama on Wednesday night, after he attacked Prime Minister Binyamin Netanyahu and his opposition to the deal struck between the West and Iran during a jab-laden speech.
"Israel does not doubt the sincerity of President Obama, but disagrees with his position," the official stated to Arutz Sheva on condition of anonymity. "This agreement does not prevent war, but brings it closer, because it gives international legitimacy to Iran to build the infrastructure to create an arsenal of nuclear bombs, and is financing the terrorist machine and its aggression with hundreds of billions of dollars."

"Iran's economic distress today restricted its development capabilities for destruction, and the removal of sanctions will propel [that development] to the same proportions that would endanger Israel, the region and the world," the official continued. "The agreement does not block the path of the Iranian bomb - on the contrary. It allows Iran to proceed on two tracks for a bomb - both under the agreement and if it breaks it."
"The agreement regarding the Iranian nuclear infrastructure does not meet the require for peaceful purposes, but for a military nuclear program," the official added. "Whoever wants a civilian nuclear program does not need thousands of centrifuges that enrich uranium."

"The claim that Iran will not be able to hide a military nuclear program is not true," the official affirmed. "Iran has already managed to fool the international community and to build secret nuclear facilities in Natanz and Qom."
"Relying on the NPT after 15 years as a check on Iranian nuclear armament is a broken parameter," the official added, noting that Iran has already breeched agreements "time and time again."

"President Obama was right when he said that a nuclear-armed Iran is much more dangerous than an Iran which enjoys relief from sanctions," the official concluded. "But the deal also gives Iran the ability to develop nuclear weapons and hundreds of billions of dollars by which it will increase its financing for terrorism."