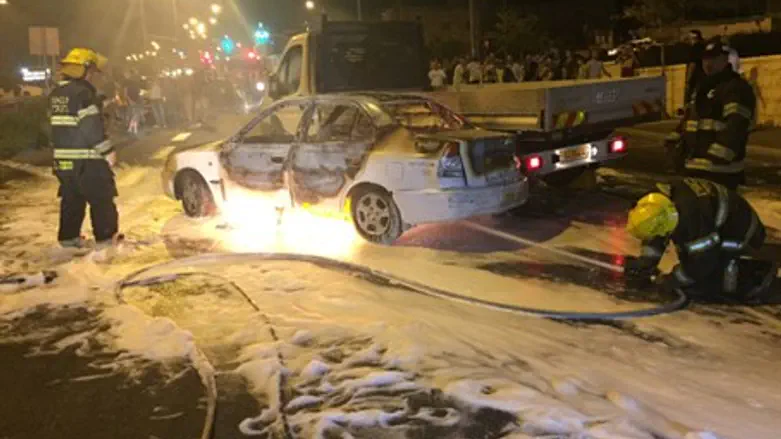 Molotov cocktail in Jerusalem
צילום: Sliman Khader/FLASH90
IDF soldier David Domanski was one of two people wounded by a Molotov cocktail thrown Monday by Arab terrorists at vehicles near Beit Hanina in Jerusalem - and says he had no qualms about running to rescue injured travelers.
"I saw a car hit by a Molotov cocktail," he said, noting that he and his unit were standing nearby at the time. Domanski, 20, serves in Division 636 of the Zikit Brigade - part of the Combat Intelligence Corps. 
"We came to help," he recounted to Walla! News Tuesday morning. "We did not think for a moment. We brought a fire extinguisher, tried to put out the fire."
"I saw a woman on the ground and that the vehicle is on fire; I grabbed the fire extinguisher and extinguished it," he continued.
"There is no fear in these moments."
Domanski suffered smoke inhalation and burns on his upper limbs. He may have been instrumental in saving the woman's life. 
"The woman was all right," he said. "I asked her what happened. We wanted to secure the area."
"She said she was hurt, she did not see where we were at all," he noted. "Apparently the blast blew out a tire and [the debris] had hit us in the face." 
"Anyone would have done it," he concluded. "I just did what had to be done."
The attack moderately injured the driver, a 27 year-old woman, who is now suffering from 2nd and 3rd degree burns on 25% of her body. The woman's husband escaped the burning vehicle without injury.