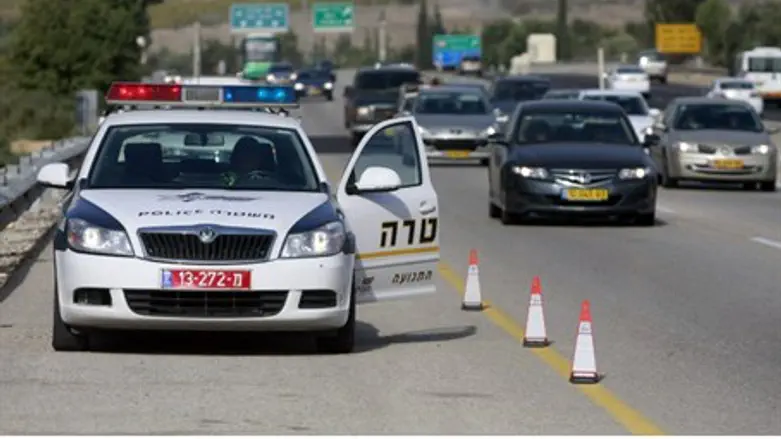 Police roadblock (file)
Flash 90
A car thief from Taybeh apparently ignored a piece of advice most car thieves seem to innately know: Whatever you do, don't crash into a police car as you make your high-speed getaway.
As a result, two cops are in the hospital with moderate to serious injuries, while the car thief, whose getaway was halted when he hit the police car at a roadblock on Road 444 in the Sharon region, will remain in jail for at least four more days before a court hearing, as police gather evidence against him.
The incident occurred Sunday night, with police getting a report that a vehicle had been stolen from the town of Kedma in the Sharon region. A police van spotted the vehicle, and began chasing it. Meanwhile, officers set up a roadblock further down the road.
Police said that the thief realized he was being followed and began to speed away – driving opposite traffic on Road 444, a narrow road that in places consists of only one lane in either direction. When he reached the roadblock, the thief, instead of stopping, drove right into a police van. Two officers who were in the vehicle that was hit sustained injuries. They were treated at the scene and taken to a nearby hospital.
Whether his intention was to slip away in the ensuing confusion isn't clear, but officers who were at the roadblock grabbed the thief as he tried to run. Officials detained him overnight, and on Monday a Kfar Saba court extended his remand for at least four days. Police said that they the thief faced charges far more serious than car theft – and that he could also be charged with attempted murder.